I went on vacation outside the city. Just like that. In the middle of the week.
I don't know about you, but the thought of that even being possible, without booking time off in advance from work, without rescheduling meetings and starting to program my "out of office" messages, excites the hell out of me. I can't remember the last time I answered "YES" to a spontaneous getaway, without using those awful pair of words "board meeting".
This whole occurrence was so unusual to the point where even Mrs. Waze didn't believe her eyes when I input the destination – Moshav Liman, which is located along the coast of Western Galilee. I even had to stop twice (!) Just to make sure I was going in the right direction.
Just an hour and a half drive from Tel Aviv, after we passed a leafy orange grove, a large iron gate opened and behind it appeared Maskit Boutique Hotel.
A luxurious accommodation complex, owned by Avi and Sarit Maskit, which includes four luxury suites isolated from one another, a spa, two pools (one indoor and heated) and a lounge where you can have Chef prepared meals or enjoy some fragrant herbal tea and delicious cakes.
In the large green entrance, the charming Sarit and Michal warmly welcomed us. After a brief tour of the complex, that was packed full of citrus trees laden with fruit, they accompanied us to a suite prepared especially for us.
Happy and excited by what we have been seeing so far, we continued into a private courtyard and walked down the walkway, but when the glass doors opened, we couldn't even believe our eyes.
A burning fireplace lit up the cozy decorated and luxurious space, in perfect harmony with the caressing background music. Each and every item carefully selected to decorate the room invited us to surrender ourselves to the relaxing atmosphere – from the luxurious bed to the heated shower floor, from the coffee table and soft couch to the ceiling fan.
Like magic, as the hours passed, we shed, slowly, the metal frame of the city and let the calmness wash over us, culminating with a pampering spa treatment which was especially relaxing.
The next day, we were greeted by the cuddling winter sun, so we decided to eat breakfast by the pool.
While enjoying the abundance of delicacies offered to us, I tried to think what the hell happened to me? All of us? Why don't we allow ourselves to have a more relaxed pace of life? And why do we NEED a special occasion to get out of town, to indulge and relax?!
In perfect timing, Sarit came up to us and asked if we would like anything else, and in a moment of honesty we sat down for a chat.
She told me that after many years in the banking sector, in which she ran a successful career as bank branch manager, she decided to abandon the demanding life, devote herself to her true passion and run this little plot of happiness called Maskit Boutique Hotel with her husband. Live a more calm and sane life, raise a happy family and a shy horse.
The conversation with Sarit inspired me a lot and turned me optimistic, so at the end I realized that I needed not only a vacation out of the city to relax, but also to rearrange my thoughts and get my hands on the Maskit's winning recipe of the delicious semolina cake!!!
… It's not clear how I managed to convince Sarit to share the secret recipe with me, but for another bite of this dream cake I would go even further :- )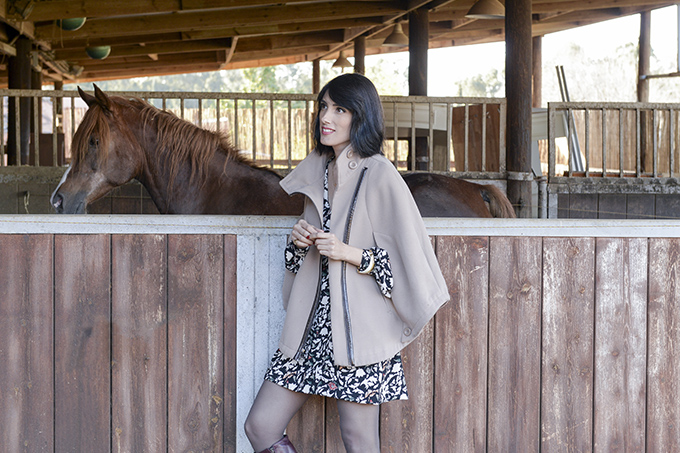 LOOKs BY: lilach elgrably / sunglasses & jewelry: dior – AVAILABLE AT enigma /
bags: kipling / MAKEUp: chanel
PHOTOGRAPHED BY: NIMROD KAPELUTO / HAIR & MAKEUP: LISHE
thank you: Maskit Boutique Hotel in Liman