When I came up with EIGHT30, I wanted to open the doors to my world and create a space where career women can get inspiration and ideas for integrating fashion and style into their lifestyles. Since then, just like a fine Swiss watch, I'm writing, editing, shooting and producing content for you, in the hope that it touches you. I look for the exact look that will fit into the right scene and that tells an interesting story, from a slightly different perspective… simple ;-)
To this day, I haven't exposed my creative and work process, except for little peeks and "behind the scenes" videos on my Instagram stories (if you're not familiar with this concept yet, click on the profile picture of my Instagram account – you'll discover a whole world of content). Though each "innocent" image has had hours of work invested in it, thought and discussions with Nimrod my photographer and prolonged staring into the distance (I wonder if you too stare in to the distance as you ponder?).
Like many, for me as well, everything starts with inspiration. This elusive thing that sometimes engulfs me and other times is hidden and requires searching. An abstract idea or a defined agenda. I have no fixed recipe.
Much has been written and said about inspiration, but its "translation" intrigues and interests me even more. That moment the gears in my mind start moving diligently to give new meaning to an idea, to package and submit it straight to you. A critical step in which the slightest deviation becomes imitation or copying.
When I was contemplating this story, I chose the latest collection from Gucci fashion house as inspiration. Something in the three colored stripes that adorn the edges of their clothes and shoes, as well as the combination of colors – red and green, seemed more refreshing than ever to me.
When I approached the task of translation, it made me think, should I present a new interpretation from an Israeli designer as inspiration instead of presenting known items of the luxury brand? (because why choose the easiest if you can challenge right?!).
A sharp eye would have noticed that lately, various designers and brands have chosen to decorate their items with three colored stripes. But there's something about the designs of Lilach Elgrably, something in the unique language that characterizes them, that created a wonderful and elegant interpretation which I warmly embraced.
As for the charming scenery, it's no other than the luxurious Muskit Boutique Hotel – a luxury resort complex where I stayed a few weeks ago.
So there it is, everything is now on the table, like an open book :-)
Hope I sparked some inspiration in you, a desire to adopt your own personal distinctive style, a desire to create and fulfil an old dream (By the way, this is the time to send this article to a friend in need for inspiration).
If the fire is already burning in you, then you should keep in mind that – "Genius is one per cent inspiration and ninety – nine per cent perspiration" – it's not mine.. I's Thomas Edison's.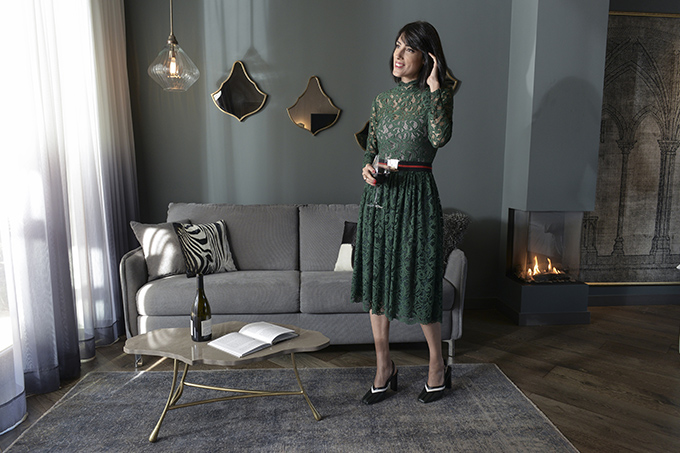 LOOKs BY: lilach elgrably / jewelry: dior – AVAILABLE AT enigma / bag: MARC JACOBS
PHOTOGRAPHED BY: NIMROD KAPELUTO / HAIR & MAKEUP: LISHE
thank you: Maskit Boutique Hotel in Liman