Or… Same closet – different attitude
September clearly came out of nowhere – a new season is about to start. Apart from the obvious sadness that weighs on my heart as summer ends, I found myself thinking about the never-ending periodicity of the fashion world and the constant pursuit after the next trend.
Let's face it, the fashion and style lovers amongst us suffer from a severe "disturbance" that gets us extremely excited and filled with thrill over a new collection, which then quickly subsides in the same intensity.
Every season we walk into stores, excited over the new color schemes and patterns – attacked with the urge to head on a shopping spree because "I have nothing to wear", then – in a moment of clarity we wonder: "why did I by this item? What on earth was I thinking?"
After that happens, we make our best effort to rearrange our closet in order to make room for the new collection. We get rid of or donate clothes that have barely been worn and "pardon" many other items "because they might come back in style one day"… And so on. In one word – madness!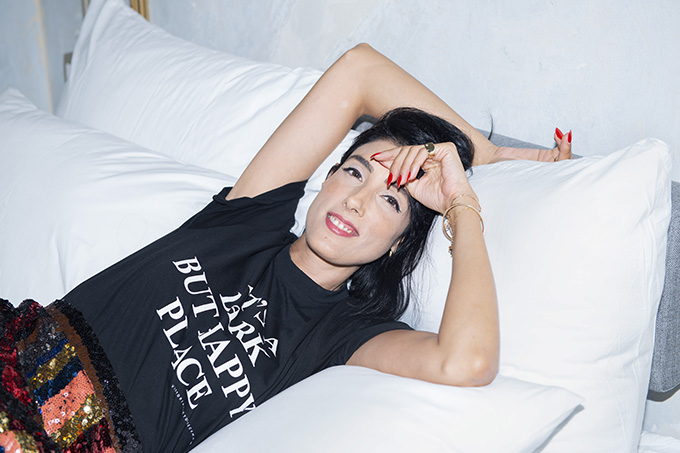 Over the past few years, I've tried to live by Vivian Westwood's famous saying: "Buy less. Choose well. Make it last". It doesn't always work, but if there isn't really a way to keep up with the ever-changing fashion trends, the solution is to adopt quality items that will last for a long time, and of course – to stay true to my personal style.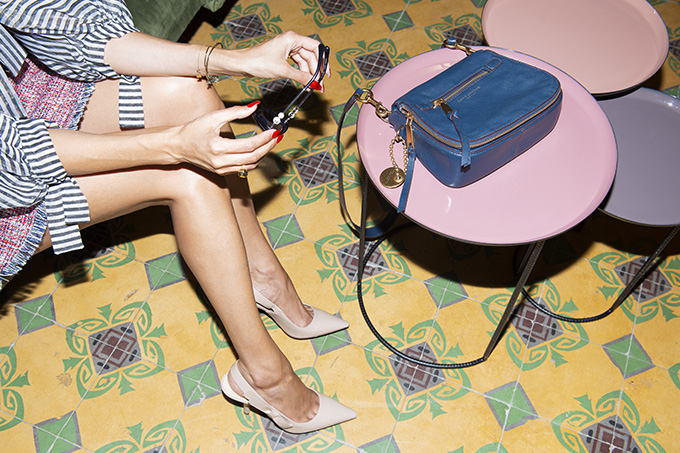 So, what does one do with the need to remain fashionable and up-to-date, you ask? Start with a shopping spree in your personal closet!
This time around, I decided to challenge myself and see if I already own items that relate to the Fall-Winter 2019\20 trends. Can I still dress as fashionably possible without visiting stores? Because you know how it is, it's all a matter of mixing and matching. And fashion… Like fashion – it always comes back ;-)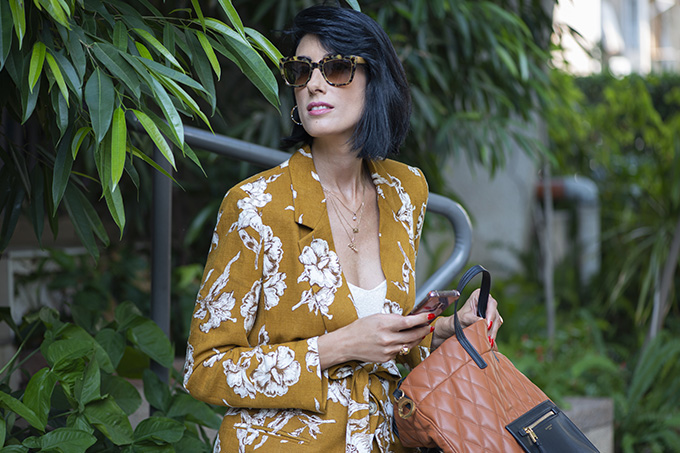 In this article, I'll present clothing items that you've already seen on Instagram story or in previously posted articles, but this time – paired differently, in order to create looks that are right for the upcoming season.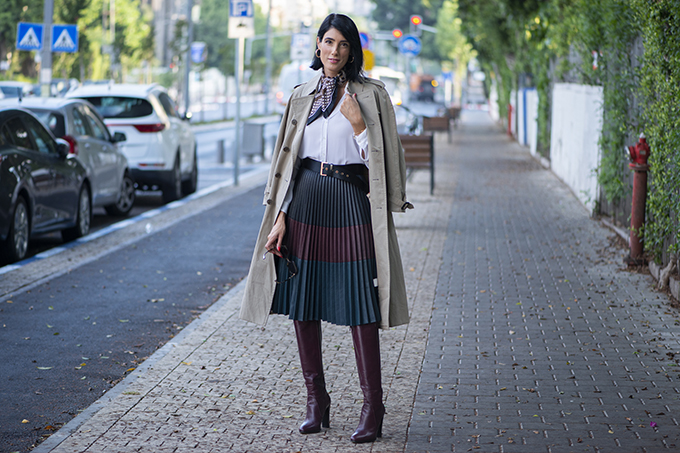 Bourgeois
Such joy! This season marks the return of the classic, bourgeois look of the late 70's and early 80's, which just happens to be my favorite style. The look of the carefully styled, upper class Parisian women, dressed in a neat, dapper manner.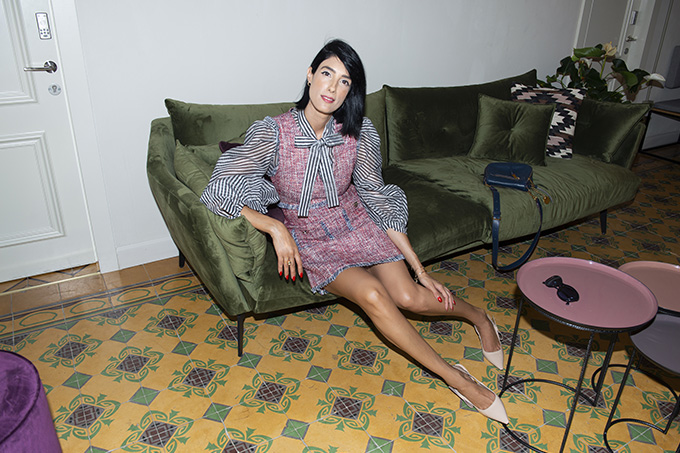 Now's the time to pull out blouses with large bows, to tie scarves around your necks, pair pleated skirts with boots, et voila! We're in Paris!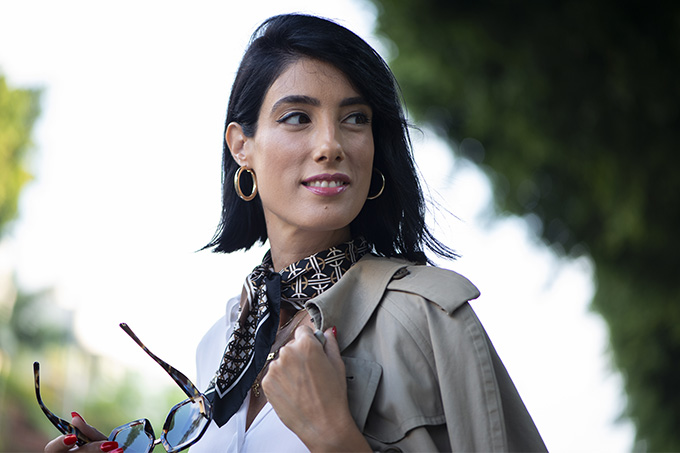 Fashion houses such as Chloé, Burberry, Valentino, Fendi and Gucci marched on their runways women dressed in the polished style that characterizes the trend.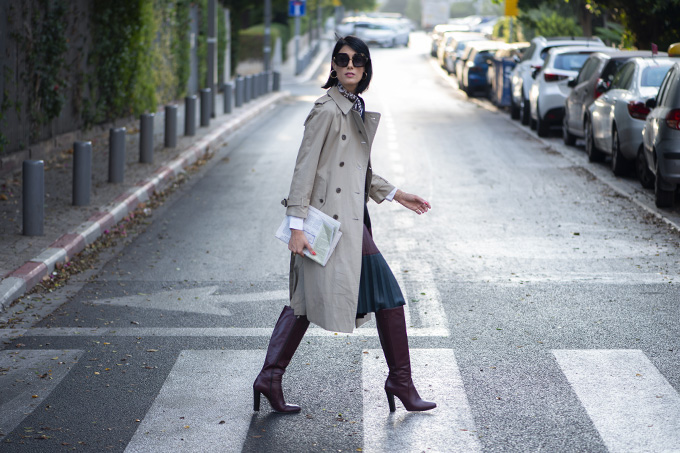 As for me, I was happy to create the first opportunity to air out (in the August heat) the Burberry trench that I purchased in a vintage store, during my last visit to London.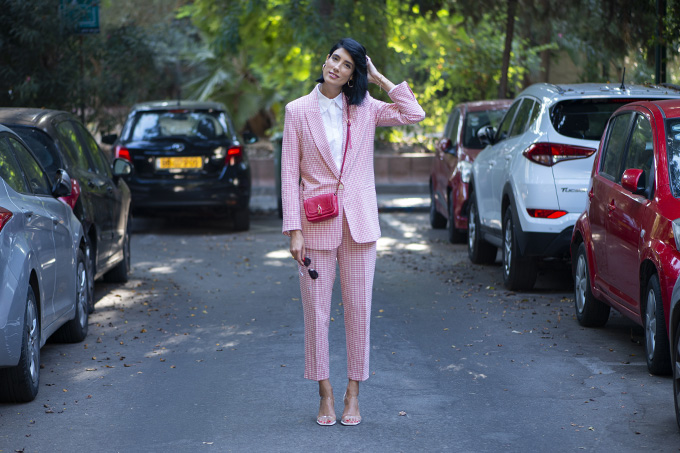 Suits are here to stay
With structured shoulder-pads, a tight belt around the waste or a wide fitted jacket – suits are staying with us this fall and they're more stylish than ever.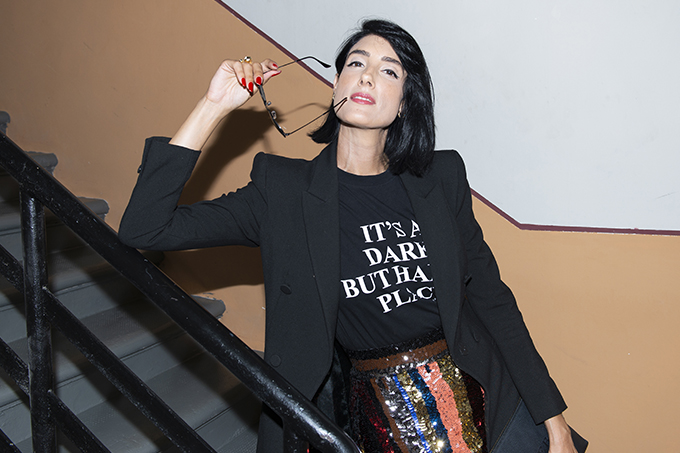 Suits in various tailorings were seen on Givenchy, Balenciaga, Dolce and Gabbana, Prada and many other fashion houses' runways.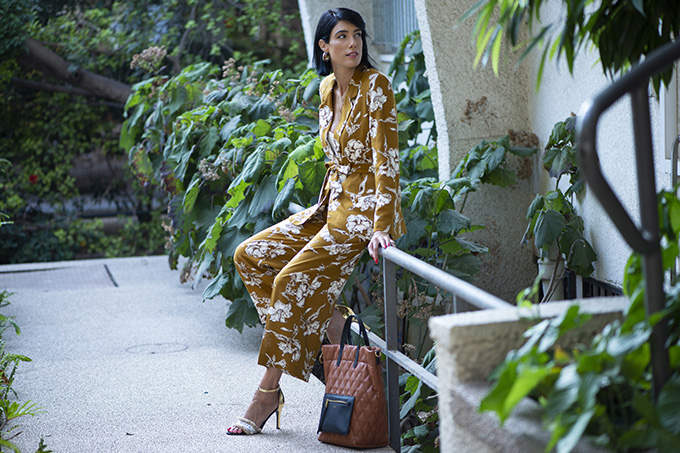 By the way, if your really have an urge and feel you must go shopping – a mouse grey colored suit is the bomb!
And while we're talking about fabric colors, it's important that you're acquainted with two more trends –
Check Please
Checkered prints were combined this season in various trends and styles, so you can't go wrong with this trend.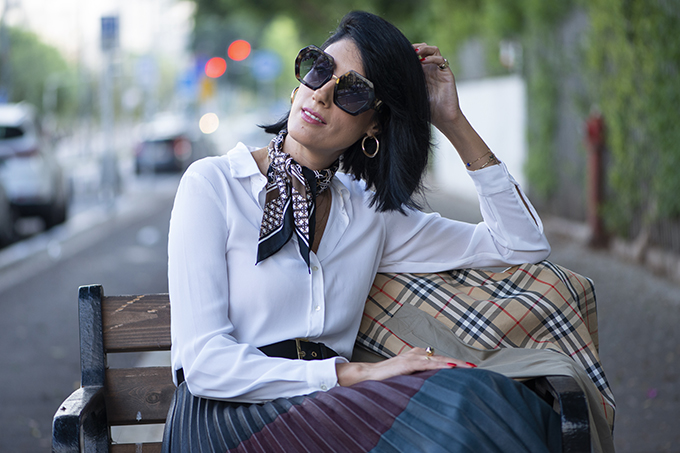 From Burberry's iconic bourgeois checkers, through the houndstooth (black and white) presented by Dior, to Punk tartan – on which I'll elaborate later.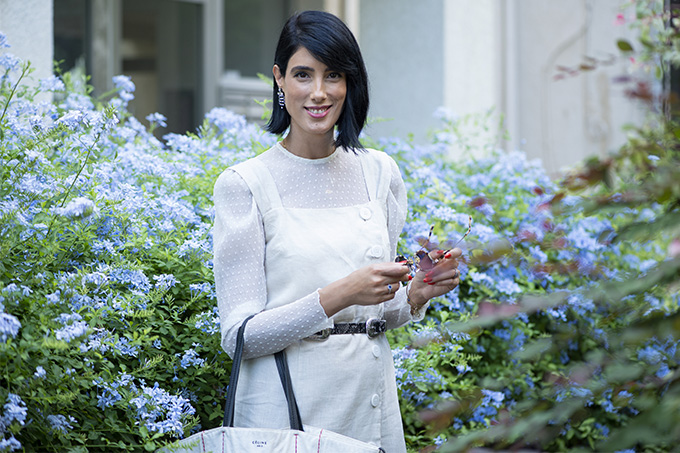 Florals are for others 
I really love flowers and though I'm also a well-known plant murderer, when it comes to floral prints – I rarely choose adopt the botanical trend.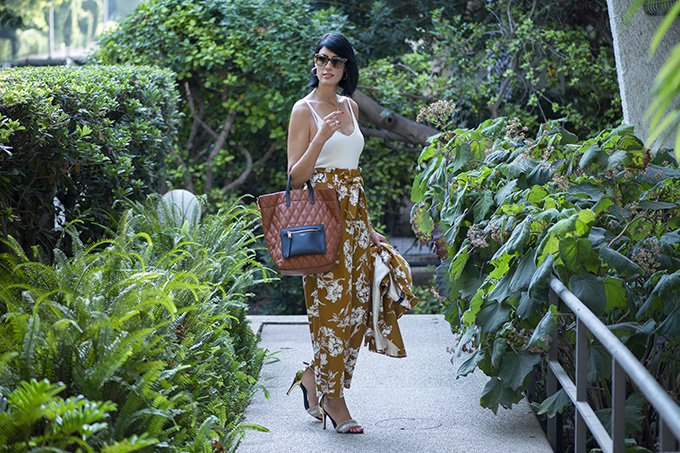 This suit was purchased in a surge of spontaneity during an end-of-season sale, and it's the most floral and daring piece I own.
As for you, it's important that you know that roses are in full bloom during Fall/Winter 2020. Big rose prints, in a romantic black setting were seen on the Prada, Louis Vuitton, Alexander McQueen and many other fashion houses' runways.
Pump up the volume!
In this coming season size definitely matters!
Two prominent trends that took the WWW by storm are the dominant shoulders and the structured sleeves, that usually characterize couture tailoring.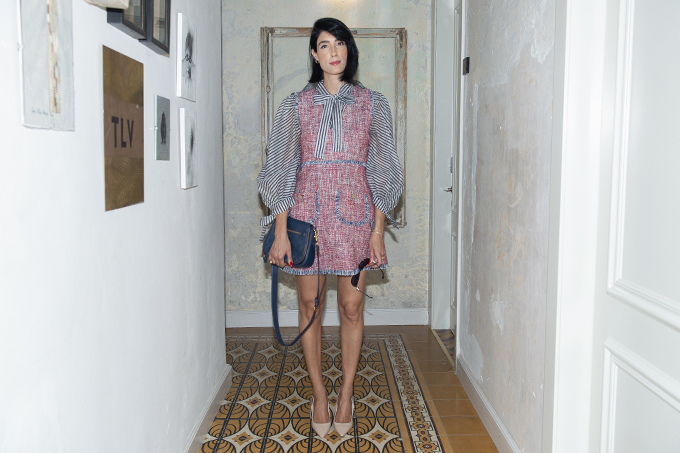 Coats, jackets and shirts with excessively puffed sleeves that are delicately tailored (as much sense as that makes), are the right look for this coming fall/winter season.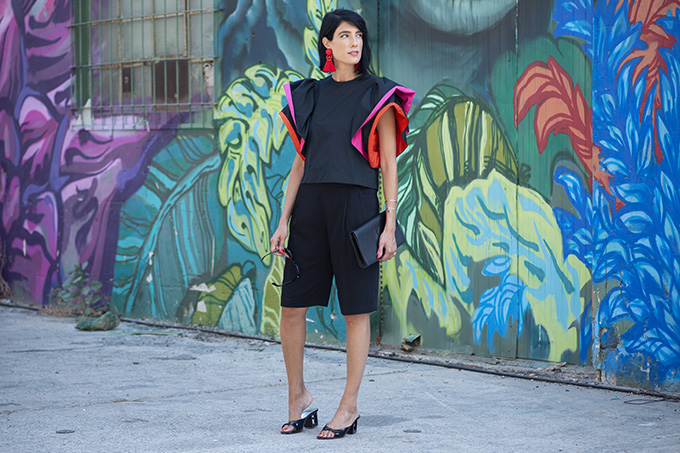 When I saw this blouse my eyes nearly popped out of their sockets, but once I calmed down – I realized it's an "overwhelmingly-perfect" top that probably won't get to see daylight too often.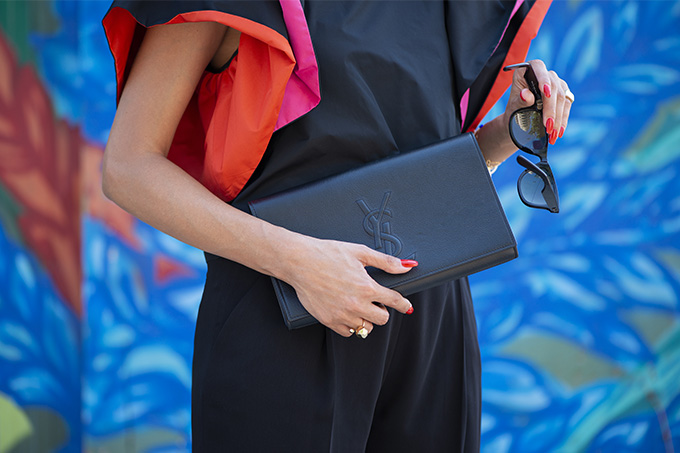 Even the poll I conducted on Story showed that opinions were divided, making this trend one that's reserved for the brave.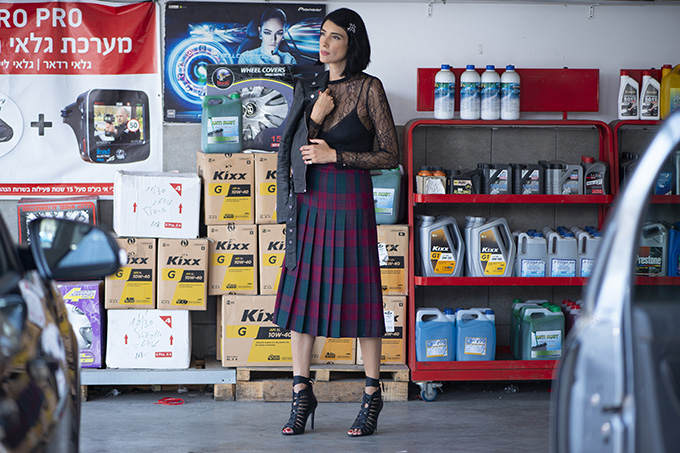 Punk Spirit
If the rebellious teenager within you is still alive and kicking, this winter will give you the chance to show her off, because Punk, Grunge and Rock absolutely rule this season!
God only knows how even though I'm wearing a kilt, a lace top and a biker jacket I look like I'm about to have tea with Queen Elizabeth. Goddammit! I stood in the middle of a garage in the August heat!
… Like my sister says – "the things you do to keep the customer (you) happy" ;-)
In short, you catch my drift: defiant, kicking, sassy.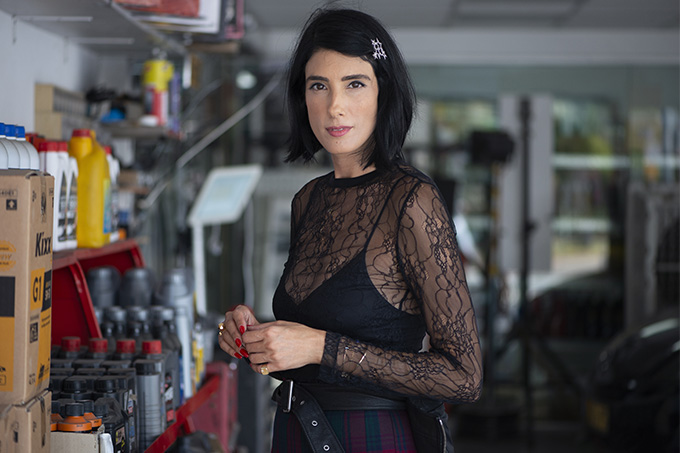 In this style, Tartan is very dominant, delicate lace and fishnets receive new interpretation and leather (or faux leather) garments are the right look, paired with silver colored accessories. To complete the look, you can apply heavy eye makeup and play around, because the only rule that applies to this trend is that there are no rules.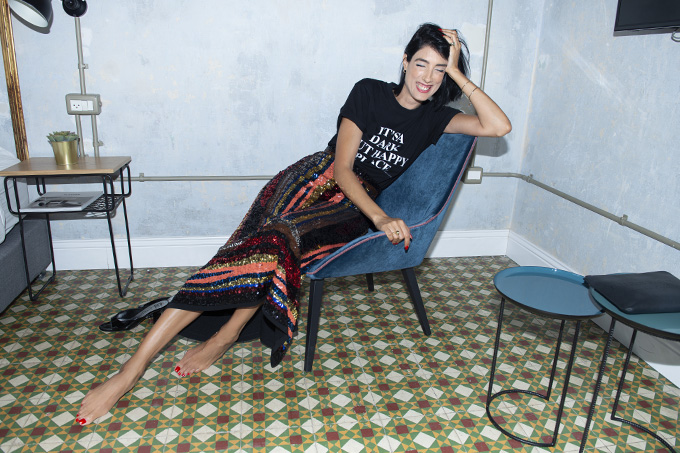 The Gold Rush
Even though there's a rock girl living inside me… outside… How can I put it… It's all Disco. Gold, sparkles and lots of both!
There's a good chance I got it from my mother (it's good to have someone to blame), because every time I see a shiny item in a store, it seems to find its way to my closet. I admit it, I'm in love with sequins or "magician cloths" – as my brother in law calls them, and this season they have an honorable place in daylight as well.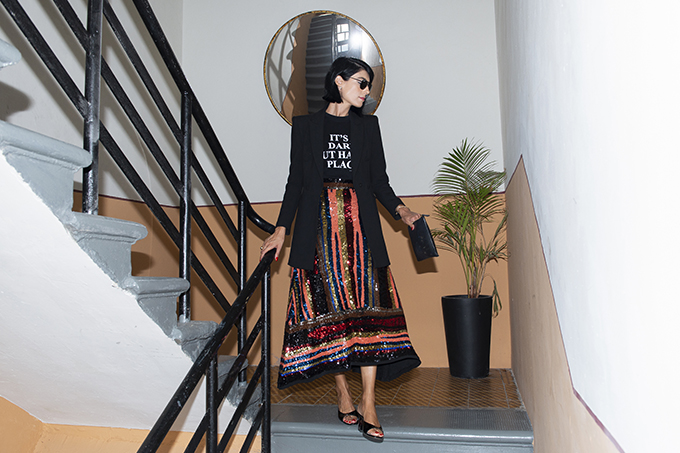 It seems that in the past few years sequins and metallics never really went out of style, but the novelty that Fall-Winter 2020 offers is the option to combine them with basic items in order to create an everyday look.
And though gold suits and dresses were seen on the runways of fashion houses such as Celine, Burberry and Michael Kors, I'm not sure the office would appreciate my "Studio 54" look, although it might be interesting to try…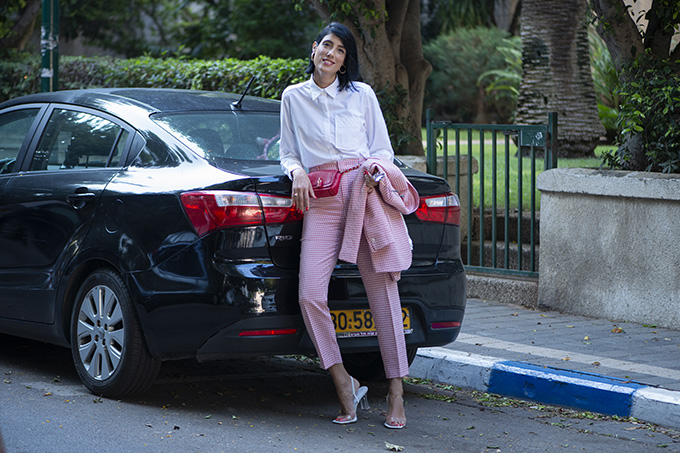 One last small (tiny, even!) thing –
Micro Handbags
One of the most ridiculous – yet simultaneously coolest – trends this season has to offer is the micro handbag. Tiny bags that can't really hold anything more than a key and maybe a credit card. Assuming your cell is always in your hand, you may not actually need more. We're into minimalism here, aren't we?! ;-)
There are many other accessories, colors and styles you need to be introduced to, for this is a very diverse winter, but meanwhile – it's eight thirty and I have to get to work. Have a wonderful day!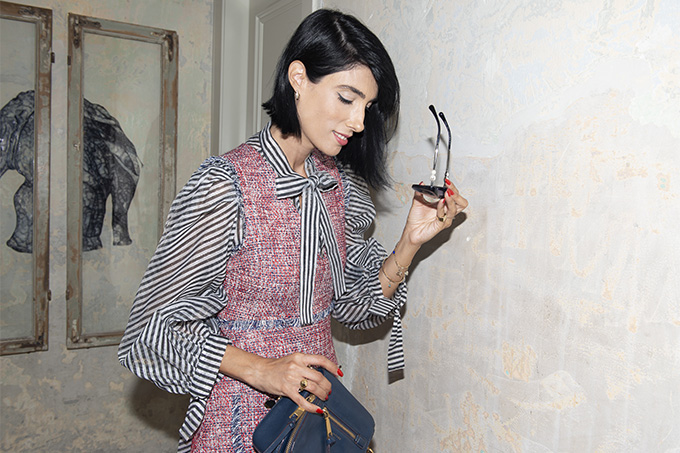 my outfits:
my private Collection of clothes ;-)
thank you JOJO City house for the WARM WELCOME
 PHOTOGRAPHED BY: NIMROD KAPELUTO / HAIR & MAKEUP: LISHE