For the past two decades or so – Tel aviv has been my home.
The city "where no one has a day-job" and where the espresso and sushi enthusiasts reside along with the "sour faces" ;-)
The past month has been particularly Tel Avivian for me. A combination of free time and seasonal changes led to spending time in many events and product launches, so I've decided to dedicate this article to local creations – a celebration of Israeli fashion.
To present to you some of the designers I truly respect, and that I believe make the Fashion industry in Tel Aviv unique, diverse and different.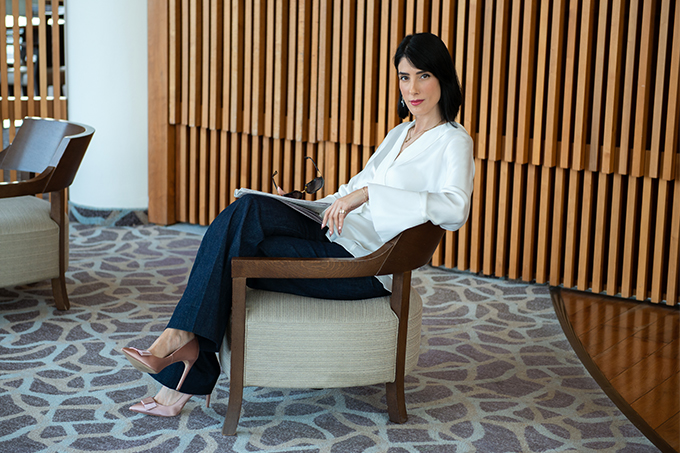 Maskit
The designs by the mythological fashion house Maskit, that was granted new life thanks to fashion designer Sharon Tal, are Israeli Haute Couture.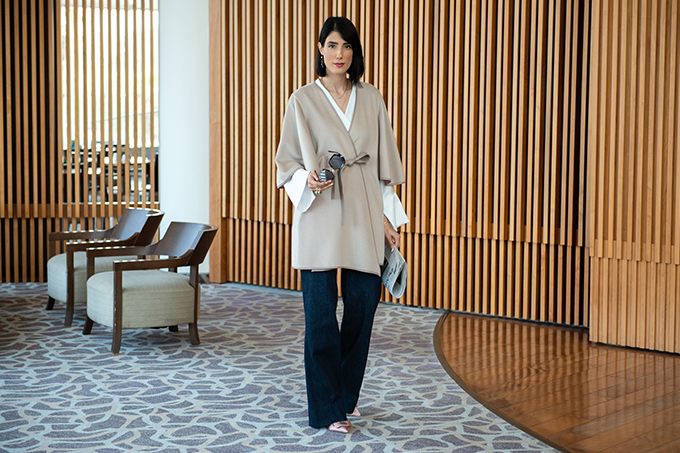 The new collection's runway show, held as part of Tel Aviv Fashion Week, sent me on a journey of local elegance and prestige: suits and coats made of cashmere and wool, in a desert color scheme, were adorned with breathtaking embroidery that made me miss winter – which is actually refusing to move on from our region.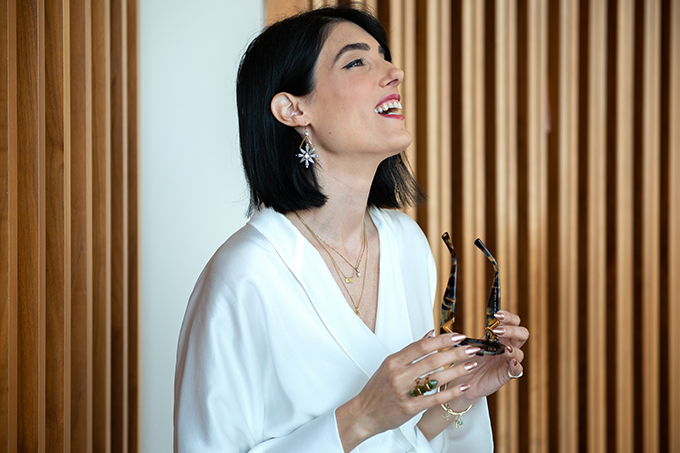 Blouses and soft silk dresses were combined with coarse elements – such as thick leather straps – or worn with pieces that were made of a textured fabric, created while drawing inspiration from the fabric Dior Fashion house had purchased from Maskit, back in 1964.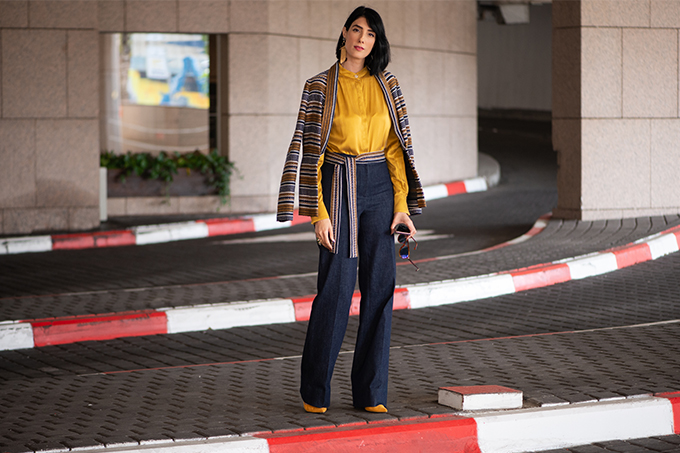 For the first time in Maskit's history, items made of Denim were seen on the runway – items which I found wonderful soft and extremely form flattering (!).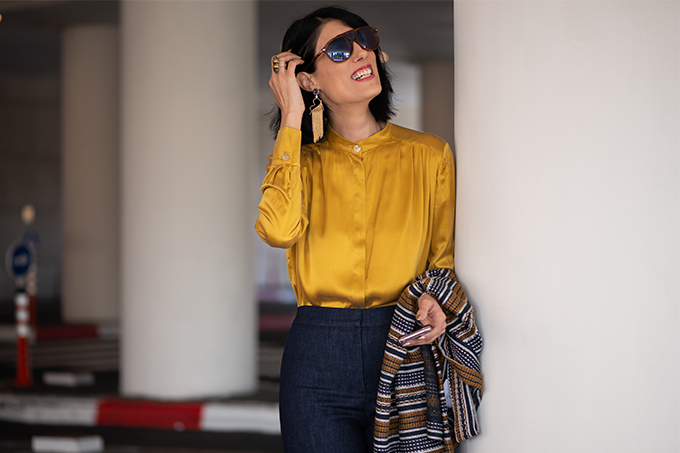 The pièce de résistance was most certainly the white maxi dress that opened the show, characterized by an alluring sheer fabric – richly illustrated with birds and flowers, adorning other items in the collection – was truly a work of art.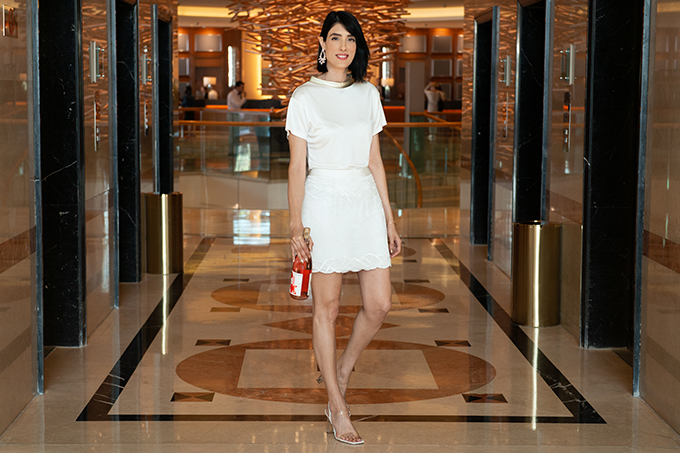 Anya Fleet
I met fashion designer, Anya Fleet, for the first time in person after the bridal and evening wear collection, that was held during Tel Aviv Fashion Week.
Dressed with a winning smile and an infectious breeziness, she opened the door to her fashionable space, located in Jaffa, and told me all about the inspiration and creative process behind the designs she showed on the runway just a week earlier. A unique and diverse collection, that draws its inspiration from the world of lingerie with a prestigious expression.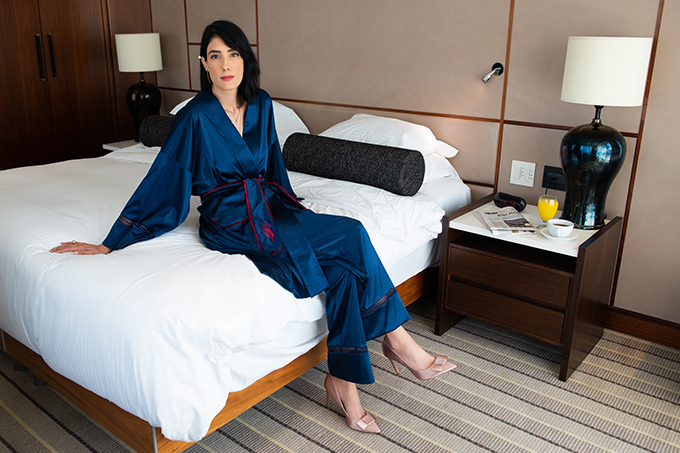 I must admit, right after trying on the satin suit – designed as a man's pajama set, I realized that's exactly what I want to wear all day long, till I head back to the office. In fact, I was so in love with that idea that as I finished my meeting with Anya, I found myself desperately searching all over the net for high heeled shoes, with long feathered accents, without success – a basic commodity for any desperate housewife ;-)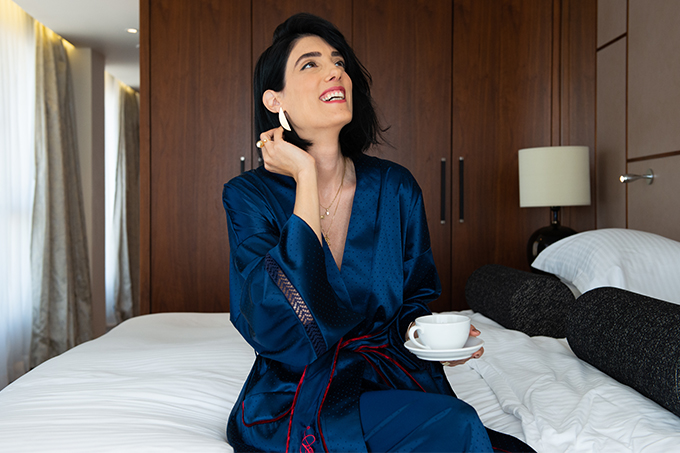 Among the other designs that are part of the SS2019 Anya Fleet collection, you can also find skirts and little laid-back evening dresses, that create a current, timeless and effortless look, alongside sporty looking suits and handmade crochet knits. In short – I fell in love!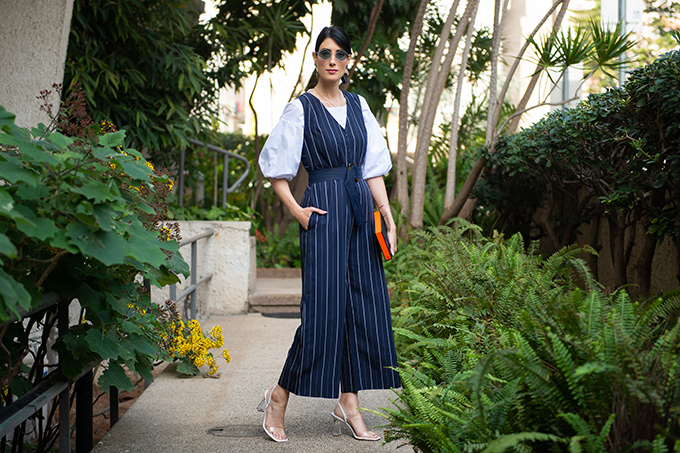 Ronen Chen
The ever so appreciated fashion designer, Ronen Chen, who was granted the Fashion Award on behalf of the Ministry of Culture and Sports, is one of the longest working designers in the Israeli Fashion industry, and also one of the most warm and charming individuals I've had the pleasure of meeting. So, it's for a good reason that his designs star on my blog on a regular basis.
The launch of Ronen's SS2019 collection was held separately from Tel Aviv Fashion week, so I got to have exciting and enriching meetings with him between shows.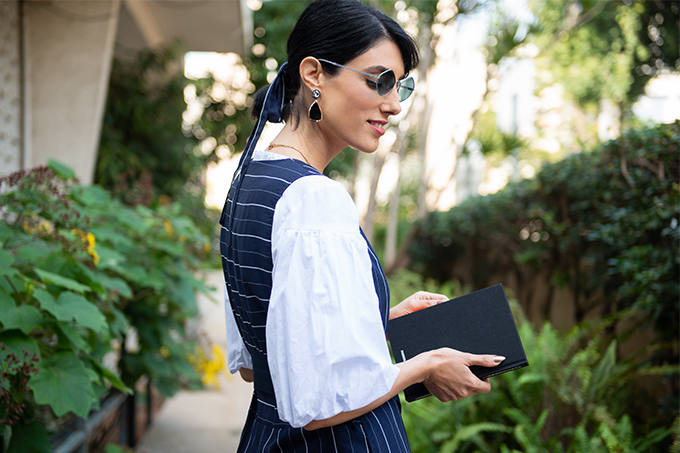 Ronen's designs usually draw their inspiration from the local (both still-life and human) sceneries, but the present collection, which goes by the name "Heat wave in Tokyo", was inspired by Ronen's visit to Japan last summer. The visit led Ronen to find similarities between the heavy heatwaves experienced in Japan to those we have here, and to design airy garments, characterized by loose silhouettes, breezy and laid back for the Israeli female crowd – that enjoy dressing in an updated, high standard manner.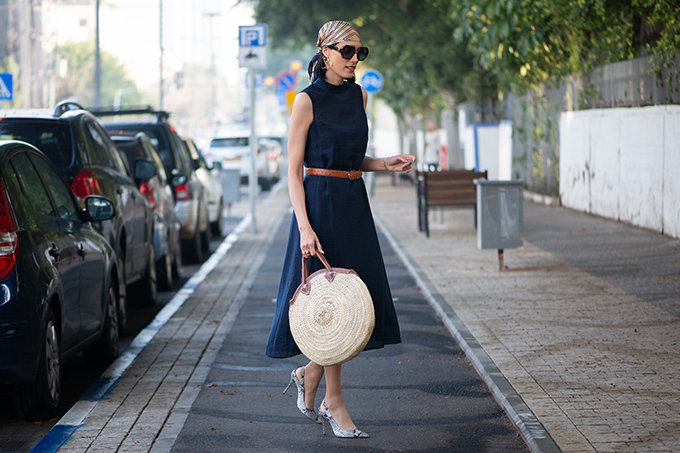 As for me, I'll admit that "loose and laid back" aren't the choice of words I'd use to describe my personal dress style, but Ronen Chen's uniqueness as a designer is that his designs enable adaptation to a wide array of styles.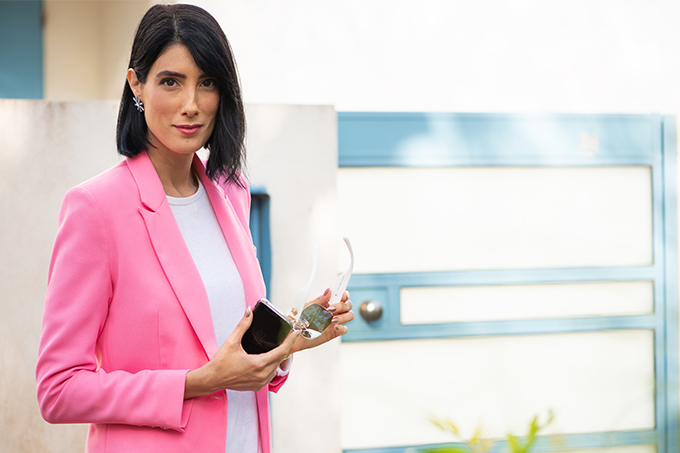 Maya Negri
When I saw this pink suit on the invitation to Maya Negri's SS2019 collection launch – my jaw dropped. I admit, an intense color scheme really has a way with me, and Maya's summer is exceptionally colorful and exciting!
Maya Negri, who has been active in the local arena since 2004, offers in her designs an aesthetic variety and a focus on comfort.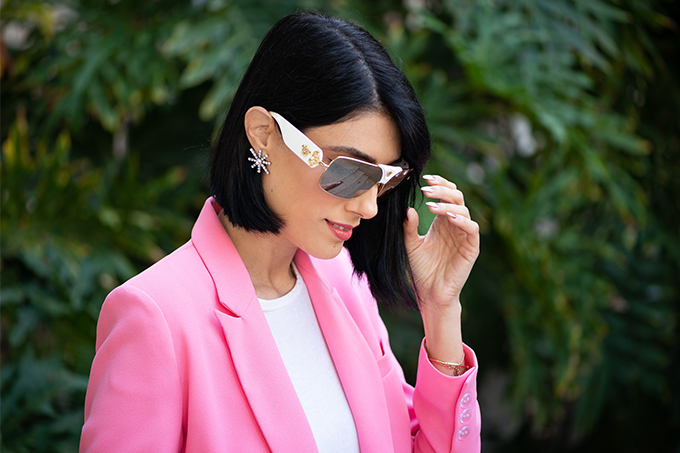 Maya's summer collection was inspired by The Wild West. Bold textures, prints and leather materials that blend in perfectly with the summery ambiance, caress the female curves and accentuate her strength.
The collections color scheme is rich and classy – a sophisticated color palette, ranging between natural colors to bright colors and prints with animal motives and abstract artwork.
I was moved!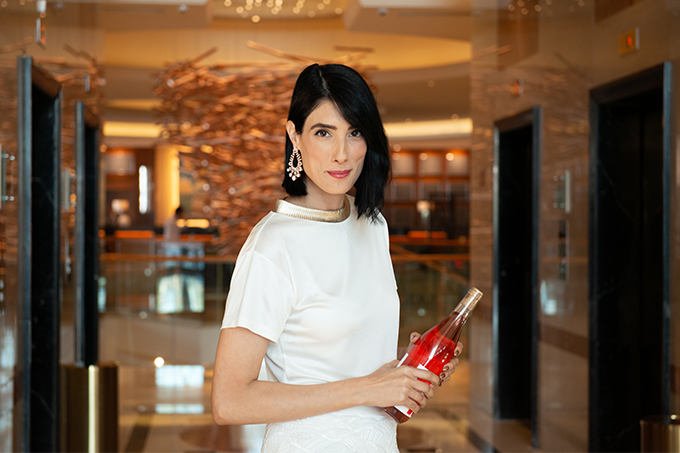 Paula Bianco
I'm thrilled to announce the return to activity of the luxurious Fashion Jewelry brand – Paula Bianco, designed by Smadar Azrieli. After being absent from the local design scene for several years, Smadar decided to return to the design table.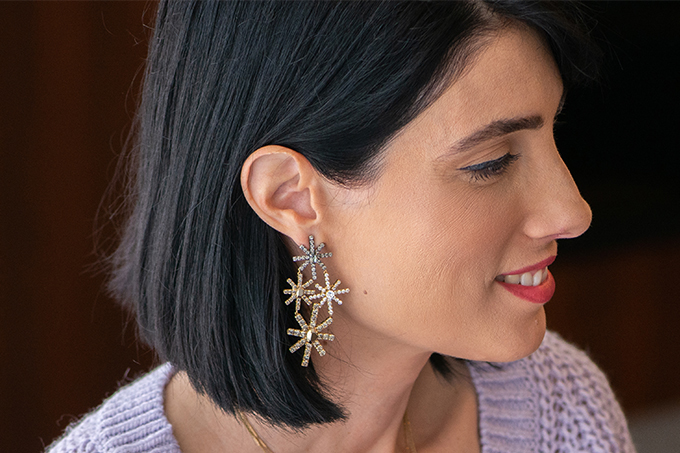 Luckily, she shared the exciting news before the official launch date, so in this article I was given the opportunity to be the first to wear these magnificent and bold, hand-made earrings that she designed.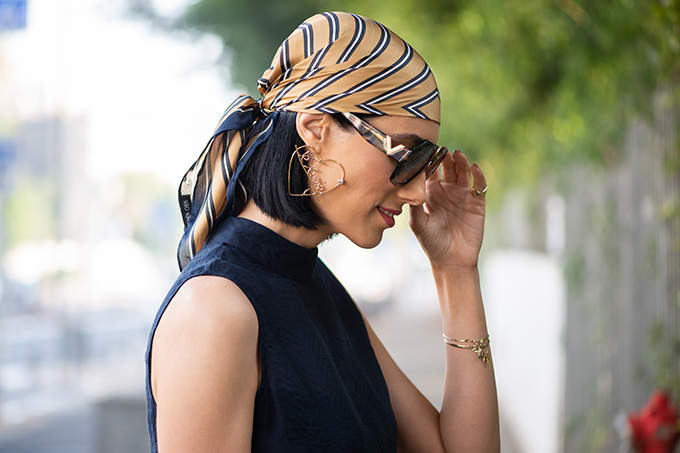 My meeting with Smadar's designs was exciting and exceptionally thrilling, as I find her unique designs to have a truly personal signature, resembling nothing I've seen before. I particularly loved the heart earrings, made from gold plated brass wire.
Wishing you the best of luck, Smadar!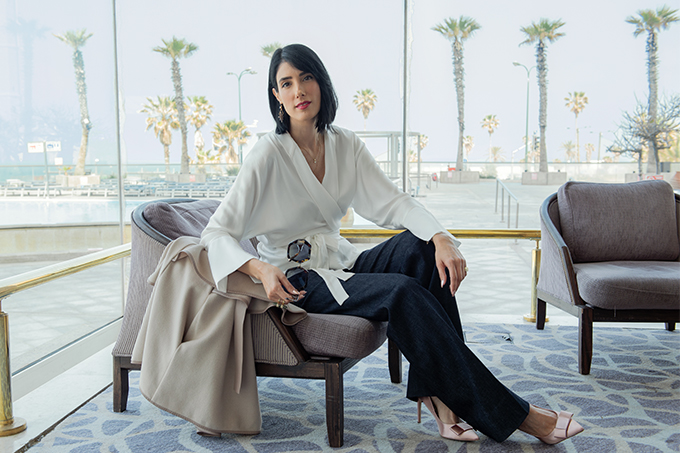 That's all folks, I hope I gave you the urge to shop "Blue and White".
The Israeli fashion industry reflects the local way of life, allows us to be close to who we really are and encourages various beauty ideals.
Most importantly – Israeli design allows us all to create, evolve and encourages local manufacturing.
my outfits:
maskit – liam jacket \ mitche jeans pants \ midbar coat \ silk blouses
Anya Fleet – pajama satin suit \ white skirt & top
Ronen Chen – blue gabriela dress \ Athena jumpsuit \ popina shirt
Maya Negri – pink augustino suit
Paula Bianco custom jewelry – Most of the earrings in this article
via rothstein – orlando earrings
luxottica sunglasses – persol \ valentino \ versace \ armani
thank you INTERCONTINENTAL DAVID TEL AVIV for the WARM WELCOME
 PHOTOGRAPHED BY: NIMROD KAPELUTO / HAIR & MAKEUP: LISHE