You know that moment when you look at a picture from your past, embarrassed and say to yourself "My god, I can't believe I once looked like that?"
I'll give you a hint, it's usually the picture from some school party, an overnight trip or a family event, those you prepared for, and spent time, hours and thoughts in front of the mirror.
I have a few pictures like that, but the most memorable one, is the one most taken, during my recruitment party for the army – dressed in a purple, velvet maxi dress, brown colored lipstick, long hair and thin eyebrows, you can't get anymore embarrassing than that! By the way, for years that miserable picture was shown to every passerby in my dad's office (dad if you haven't destroyed it yet, this is the time to do so).
What was I thinking when I put together that heavy look?! There's no way that I actually thought I looked fashionable and cool… but then velvet came back to my life.
Fall – winter 2017 fashion is already here and here I am, standing in front of this cringe worthy fabric and once again thinking I am fashionable and cool. even though my hair is shorter, eyebrows are fuller, and my lipstick belongs to the new collection from Chanel – I couldn't be more on trend (Who of you wondered what was in the Parisian goodie bag?). And yes, sandals with socks are pretty hot right now, I swear :- )
Days would tell if I was wrong or not, but the velvet comeback is without a doubt one of the most nostalgic events that the fashion world has experienced recently. As opposed to the past, this time, velvet shows up in its light and improved shape. it is no longer the fabric that is reserved for the dark gothic look, or night gowns, but one that accompanies the everyday look such as, the T shirt, a short dress, a jacket, ankle boots and sandals. Of course, there's no need to go for the full velvet outfit and look like a care bear, one item or two will definitely improve your everyday look or prestigious event.
So good morning, velvet is back! get dressed, put effort and take a selfie… because in a few years, when you look back, you'll have someone to blame ;- )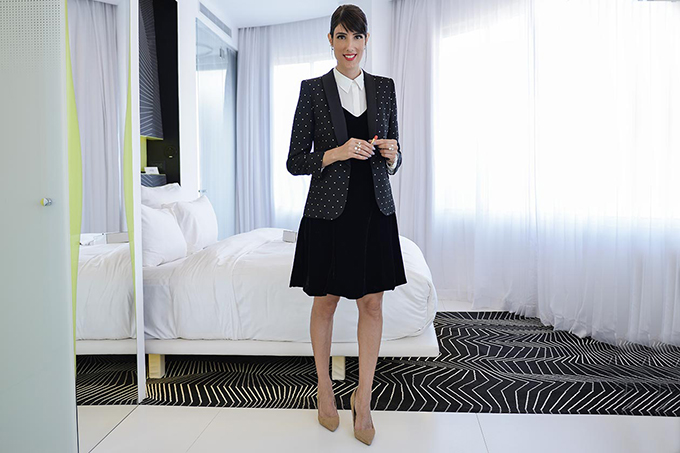 Jackets & bag: zadig & voltaire / DRESSes & sandals: castro / JEWELRY: H. STERN /
PHOTOGRAPHED BY: NIMROD KAPELUTO / HAIR & MAKEUP: LISHE
thank you: the poli house – boutique hotel tel aviv & chanel for Le Rouge Collection No1