Chanel Fashion House invited me to meetup while I was in Paris. From here to there… a collaboration happened :- )
"On what planet are you on?!" you're probably asking yourselves.
Between us, I'm asking myself the same thing. The far-fetched sequence of experiences that has been following me over the last month is so surreal that I'm actually laughing at myself as I'm writing these words and saying to myself – "who's gonna believe me?"
My "love affair" with Chanel started about a month before I left for Fashion Week, on one of those funny nights I was sitting at home playing the "What if…?" game. "What if I write to Chanel and introduce myself?" I thought. Although, we are talking about a Fashion House who's a symbol for quality and prestige that sets and dictates the upcoming trends. A desirable destination for many fashionistas that is imitated and admired all over the world. But let's not forget that it's also a fashion house founded by a strong and opinionated career woman who was creative and revolutionary, so we share some common values. So, in the swing of making the decision, I jumped off the couch, I wrote about myself, and from there the road to the Parisian café, Ladurée, was short.
To tell you the truth, I was very surprised by the very warm welcome from the crew at Chanel. Since Fashion Week is super packed with meetings and events, I was surprised that they would even have time for a meeting with an Israeli Blogger at the beginning of her road. But I guess that the secret to the magic, success and source of inspiration of this brand is their openness, boldness, and incredible foresight.
As for collaborating with them, I knew it had to be something especially sparkly, or in other words – New Year's Eve!
NYE always calls for special events and glittering parties. It's a time to get out of the daily grind, to invest (in yourself!) and adopt a hot new look that will mark the start of a breathtaking year.
You can already hear the countdown towards 2017, and in order to turn from Kochavit into Coco, I turned to my personal beauty advisor. My beautician and the most talented makeup artist I know. A professional career woman that manages the high-end beauty boutique "Lishe", Mum to Or and Yahel – my sister (the one and only) Lipaz :- )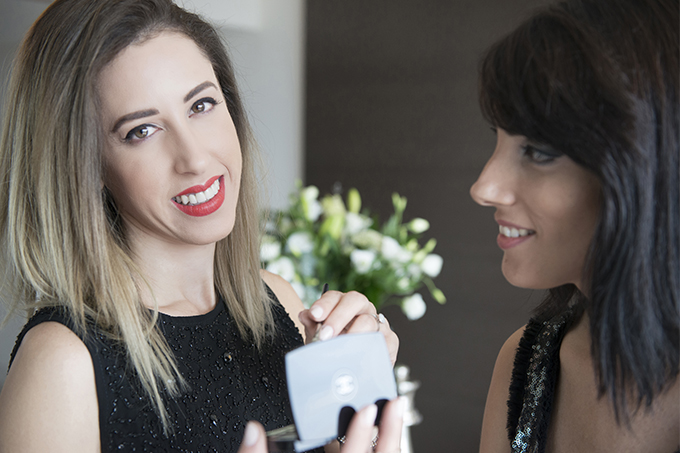 Where will we find you on New Year's Eve?
"On NYE you'll find me watching standup comedy or at a friend's house party, in the hopes I find a babysitter of course"
What is your make up secret to a glamorous evening look?
"My secret is to lay a good foundation for the makeup so that the look can last for hours. It's super important to use quality makeup, create uniform coverage all over the face and most importantly – don't skimp! Many women tend to apply a layer that is too thin, which makes the foundation less effective and doesn't allow the eyeshadow or blush to set in and last.
By the way, a touch of shimmer from just above where your blush starts and up towards your temples does wonders".
What is important to remember when wanting to highlight the eyes with makeup?
"The key rule to emphasizing the eye area is to reduce the focus of the lip area, as in – don't use a dominant lipstick color. As for older women, it's important to use a mat shadow rather than shiny in order to avoid highlighting those little wrinkles around the eye.
Your eyes were emphasized using CHANEL's "ARCHITECTONIC" EYESHADOW PALETTE ("libre" collection), which was applied from the outer corner of your eyelid towards where your eyelash line ends, and rubbed a little around the temple area to give it a smokey feel. Of course, you could add a little shadow to the lower lash line by using a pencil eyeliner or by applying eye shadow using an angled brush. As such, I used "CALLIGRAPHIE DE CHANEL" – LONGWEAR INTENSE CREAM EYELINER (65 HYPERBLACK) to emphasize your eye".
Have you got a tip for applying blush?
"You should apply your blush at the end, after the overall make up has been applied, in order to ensure the right shade is applied. I recommend to apply your blush using a brush that suits the shape of your face and isn't too wide – apply the blush to the apples of your cheeks.
Not sure how to find them apples? Squeeze your lips together into a kiss and apply the blush along the upper cheek part that's sticking out.
For you I used the "JOUES CONTRASTE" POWDER BLUSH in the "360 HYPERFRESH" shade to highlight your cheekbones".
Have you got a tip on how to make your lips look full and luscious towards the midnight kiss?
"When it comes to lipstick I always recommend using a long lasting one. It will stay full and bright even after the midnight kiss, and won't smear all over the little wrinkles around the mouth. To create the perfect look, try to make a kind of makeup frame around your lips and apply the lipstick using a lip brush or sponge.
My tip for NYE is using a "LE CRAYON LÈVRES" PRECISION LIP DEFINER in the "97 DÉSIR" shade and "ROUGE ALLURE" INTENSE LONG-WEAR LIP COLOUR number "257 ULTRAROSE". I believe that there's nothing like red lipstick for creating a hot feminine look.
By the way, to create an especially glamorous evening look for you, I also used "LE VERNIS" NAIL COLOUR in the 540 LIQUID MIRROR shade."
If a full face of makeup isn't really your thing, it's all good! You can adopt a lighter version like just applying eye shadow or lipstick. Like the incredible Ms. Chanel herself used to say – "Beauty begins the moment you decide to be yourself".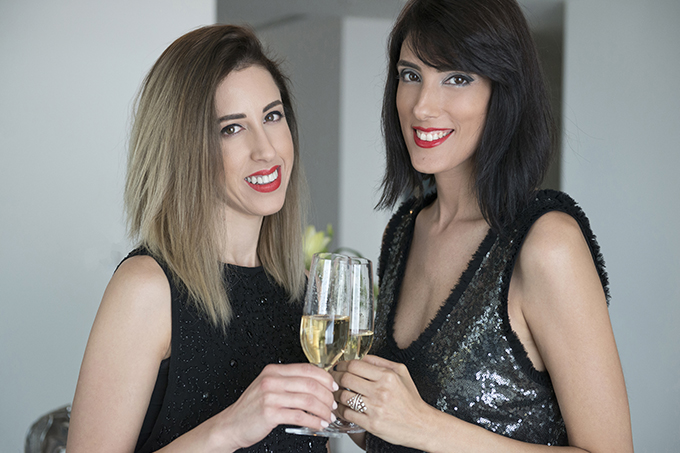 A wonderful and especially glittery New Year's Eve to all of us!
Cheers :- )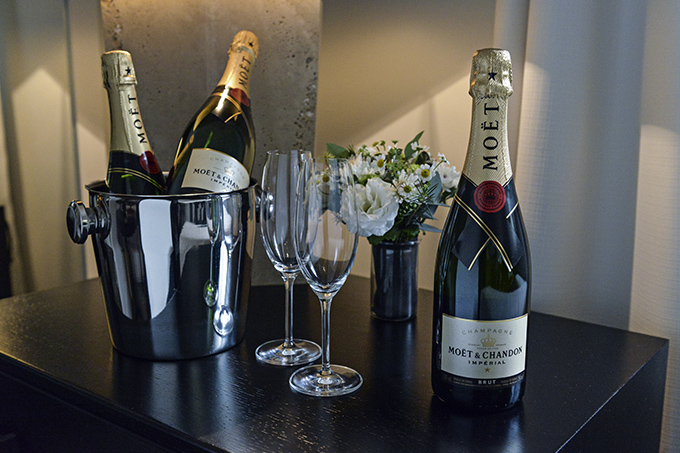 thank you: chanel and beautiful Dorothée for believing in me!
Hair & Makeup: My amazing sister – Lipaz Hanani
jewelry: H. STERN / location: the ritz carlton herzliya / Moët & Chandon: Y.D. 1986
PHOTOGRAPHED BY: NIMROD KAPELUTO / Video Photographer: Daniel Bar On
Film Production: Amit Dekel for Dekel Films
Creative & production: me :- )