…Or: The full career woman's fashion guide
Do you know that feeling? Standing in front of your closet in the morning, thinking to yourself: I have nothing to wear!
Taking that same thought along with you to the office, stopping by the mall on your way home, then in a moment of insanity – purchasing lots of items (because there was a sale or any other excuse) only to find out the next day that a sequined skirt, a beach top and flip flops don't make up the best office outfit?
So, to make matters easy for all of us, I decided to write a dress guide for the fashionable career woman, and to address the many comments and questions you had asked me on the quick survey I held on my IG story, before my latest shooting day.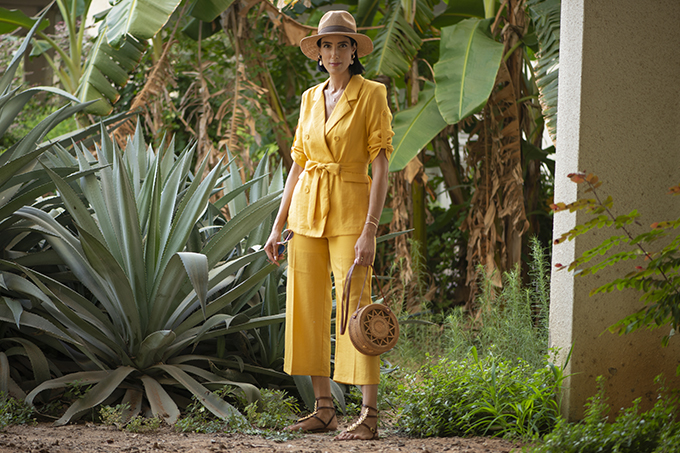 Suits me right
True, this isn't Europe – it's Israel, but there's no way I'll ever get used to it!
Every woman needs (at least) one good suit in her closet.
If in the past suits were reserved for lawyers only, while most of us tried our best to avoid an old – heavy look, in recent years you can find various interpretations of the old, well-known classic suit. So, a jacket that matches your trousers or skirt is no longer solely appropriated by career women.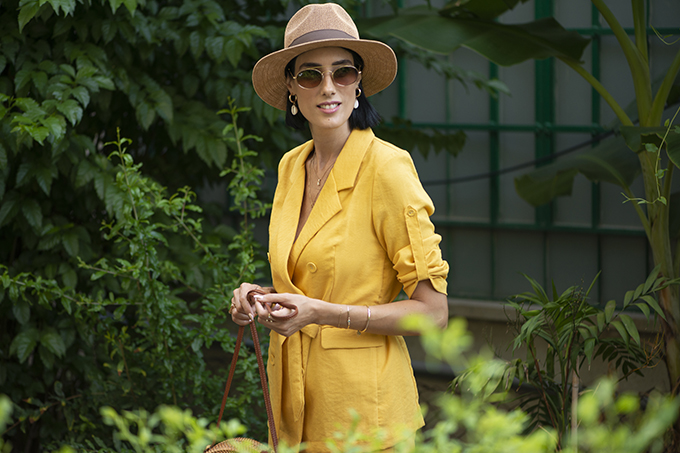 Besides the fact that a suit can be worn as two separates, incorporating various items with the jacket and bottoms, a jacket is one of the most elegant solutions to the gender war on office climate – particularly during the summer, when the office A/C is pulling in extra shifts and you just have to cover up, or you just might freeze.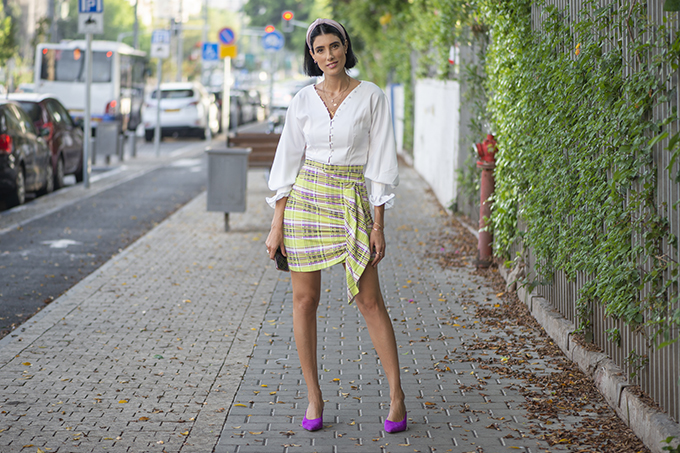 Another insight – wear white
If you ask me what I find to be the most flattering item a woman can wear – my answer would undoubtedly be a white button-down shirt.
Something in the contradiction between the masculine look and the female body, makes the white top another must-have in every woman's closet. So assuming you already have one soft one and maybe one that's a bit more structured and stiff, it's time to start playing around with new and updated cuts and introduce new white tops into your wardrobe.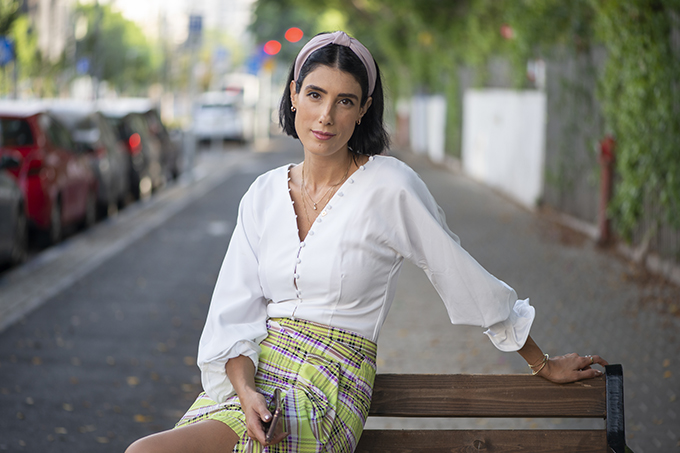 The light colored tops will light your face in a flattering light (trust me, it's scientific) and as time goes by – they'll remain relevant and fashionable. In short – a great long-term investment ;-)
Are you crazy?! There's no way I'm wearing "oversize"!
One of the more challenging requests received via my IG story survey, was to shoot an oversized inspiration.
Let's put things in order and define the term: as implied by the name, an oversize cut is a relaxed, loose fitting cut that softens the curves and hides the body's contour.
Now I ask – why on earth would you want to do that?!
Yes, there are days when you feel like "breathing" and times when your body isn't what it used be, but I feel that there's never a good reason to hide yourselves behind yards of fabric. By the way, if you choose to do so, at least make sure you reveal and accentuate narrower parts of your body, like your arms and legs, and that the size you've selected isn't too big compared to your body.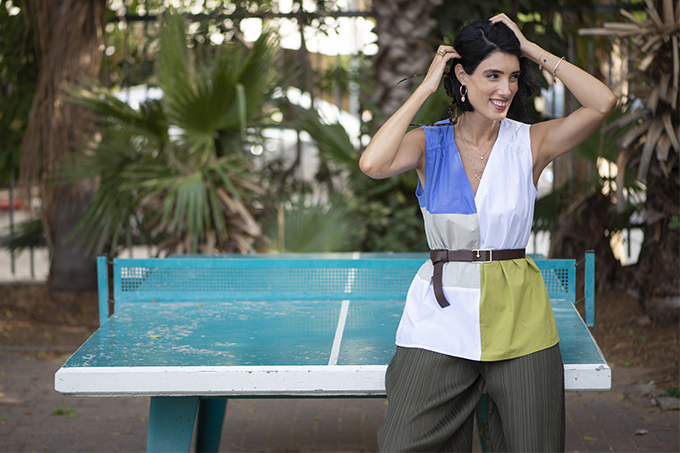 Every woman has her own figure and has that certain, beautiful thing that's worth accentuating – one woman might have toned legs, another might have a slim waist, one might have perfect proportions and another – feminine, pear shaped hips… It doesn't really matter. In my eyes, it's important to pick silhouettes that suit your body type and flatter it, and to avoid hiding behind large clothing items.
Between you and me, if I'm being honest – I often wear oversized items, but tend to accentuate the waistline using a belt. That way, my pear-shaped hips hide behind pleated fabric and the slim waist create a long, slender illusion… I recommend you try this at home ;-)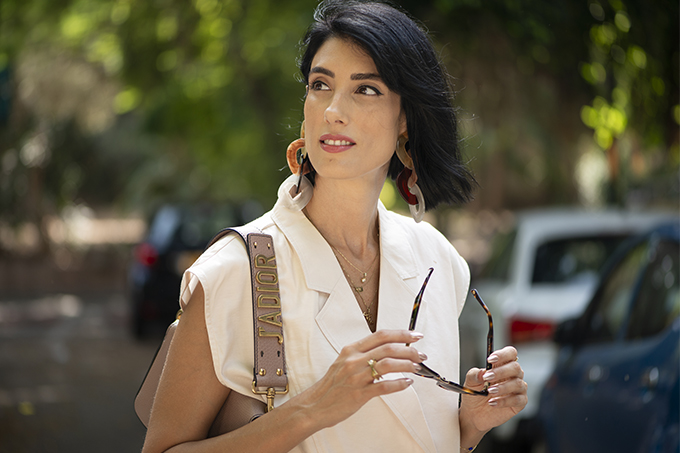 Basic & beautiful… Or in other words – keep it simple
Another recurring request in the survey was to shoot an inspiration for a light, daily look, that would suit face to face, non-official meetings with clients.
That request reminded me of one of the responses I get from people who meet me for the first time – "wow, you're dressed so nicely, I now feel uncomfortable with my choice of outfit".
This is the time to point out that if anyone feels somewhat uncomfortable while meeting you, they should first check the issue with themselves before projecting it on you. In short, feel yourselves and dress the way you want to – not how you're expected by your surroundings.
But… Whatever. You asked – you got it!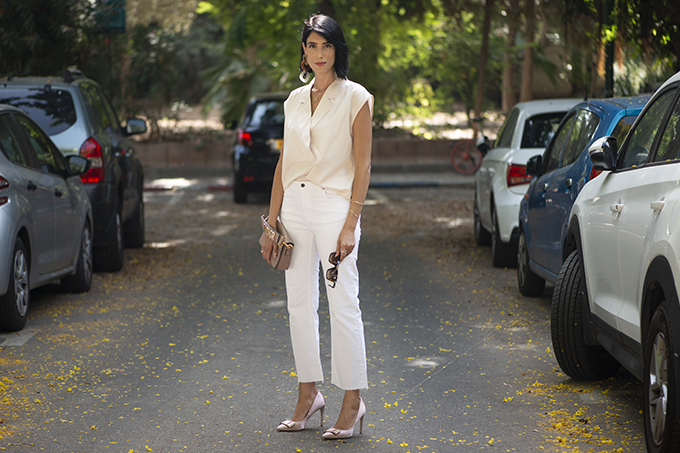 To create a light look – suitable for business meetings, you should have a number of quality, simple basic items, so that the look you create broadcasts quality and attention to detail, same as it broadcasts ease and flexibility.
Pay close attention to the type of fabric the garment is made of, the stitches and finishes – to avoid a sloppy look.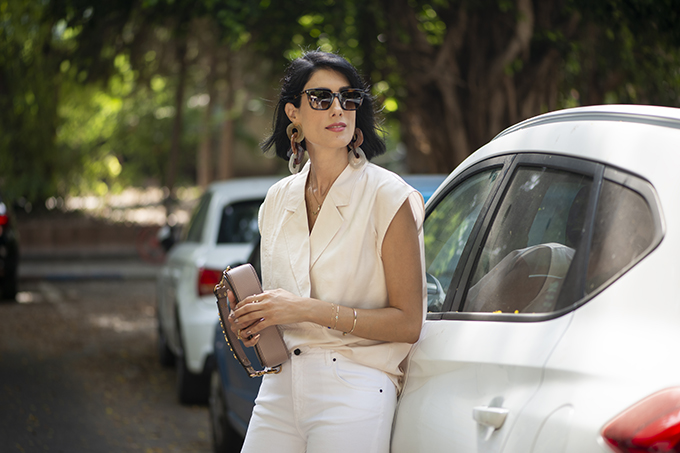 By the way, in this case – the colors of the clothing items you choose is significant – remember that lighter colors will always create a more formal and luxurious look than darker colors would. Also, incorporating a light jacket will help transform a basic look into a slightly more official look, that's also suitable for meetings with clients.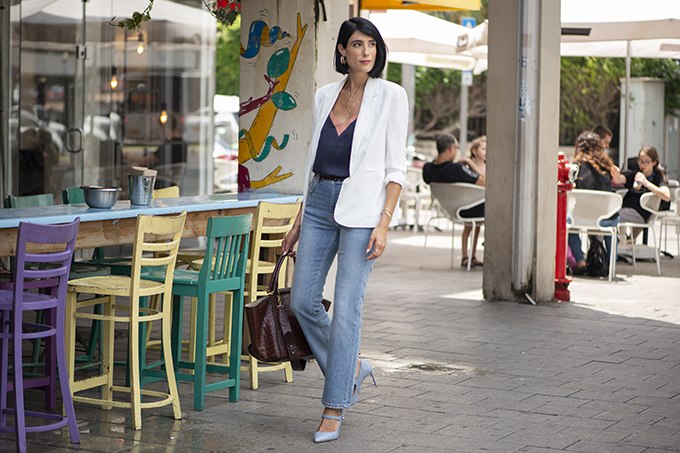 What about those jeans?!
Looks like I went completely wild during this last shooting day. Those of you who follow the blog closely, know I've never (!!!) worn light colored jeans on the blog. In fact, it's only the 4th or 5th time I've shown an inspiration that incorporates a pair of jeans since the blog was launched.
Why? Because! ;-)
Jeans are the easiest option and I'm a woman who likes a challenge.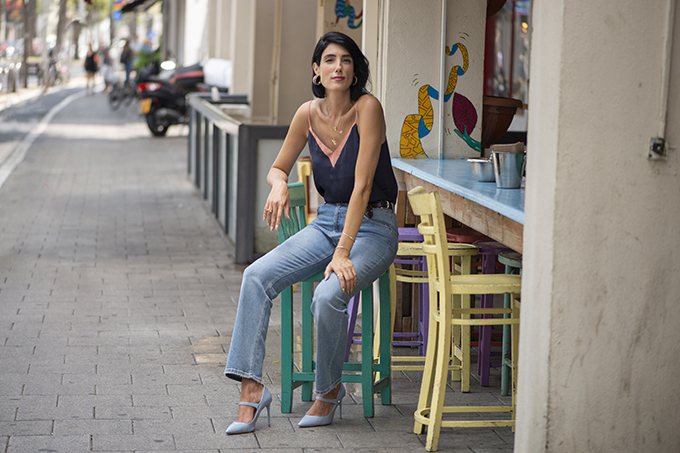 So how does one wear jeans to the office?
It's all a matter of "balance and brakes" – any lawyer will tell you. If you choose to wear jeans, make sure that the rest of your outfit is formal and meticulous. That way, a professional and serious look will be maintained.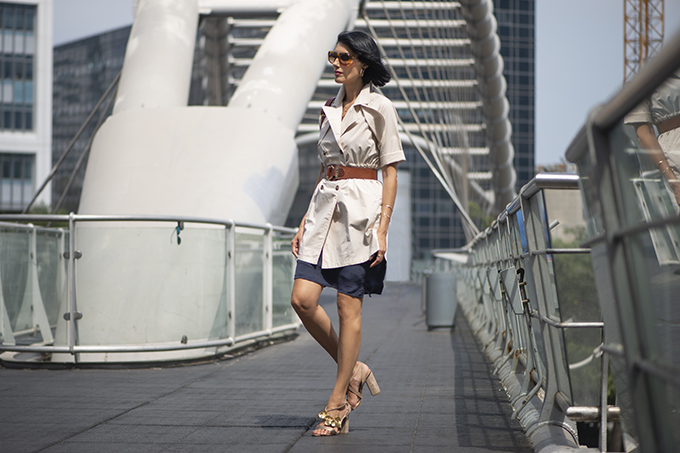 … Which leads me to your next request –
Day and night
What does one wear on a workday that ends with dinner with clients or a social meeting?
This is a great opportunity to discuss accessories! For in my closet, the difference between "night and day" isn't very clear – many items will be worn by me both to the office and on a night out, but the different looks will be achieved through use of accessories.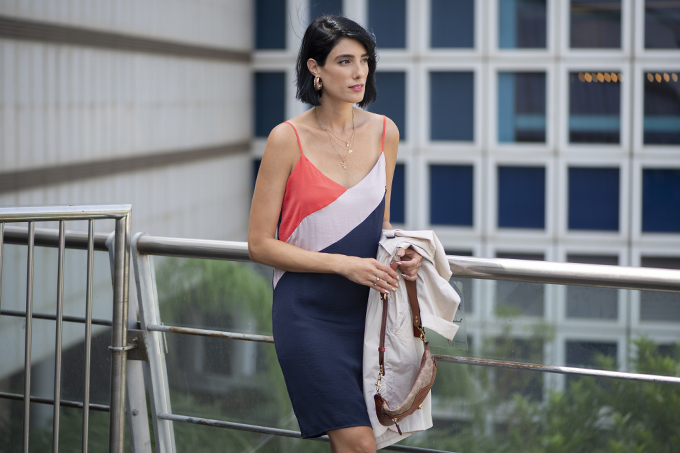 Glamorous high heels will be worn in the evening combined with sparkling chandelier earrings, as well as red lipstick and a tiny handbag, that will upgrade any outfit.
To create a more meticulous, sleek look, that suits an office environment, I'll use a jacket or light coat, under which I'll wear a sleeveless top or a revealing spaghetti strapped dress.
By the way, a day like this is an excellent day to wear jeans to work.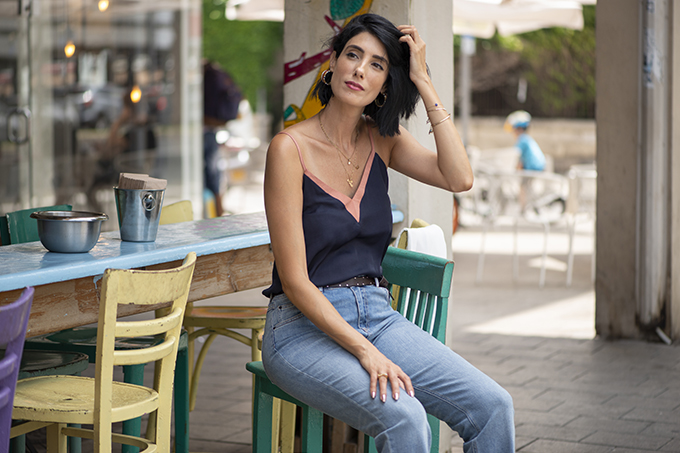 I just threw something on
The preparations for this shooting day and the conversations with you both made me happy and helped me get to know you little better. Every morning I offer you inspiration, after a long thought and examination process I conduct with myself, that sometimes works well and gets excited responses and sometimes… A bit less.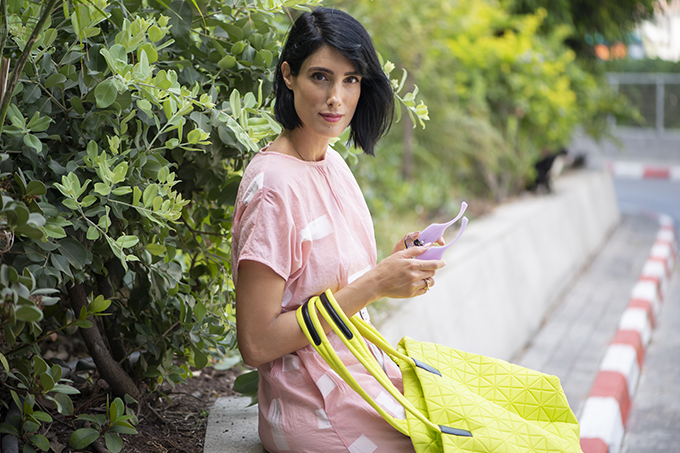 This time, the mutual process exposed me to requests and questions I could have predicted myself, but also to some that took me by surprise. Like the request to create a look for hiking or the one asking for a look for relaxing on the couch at home.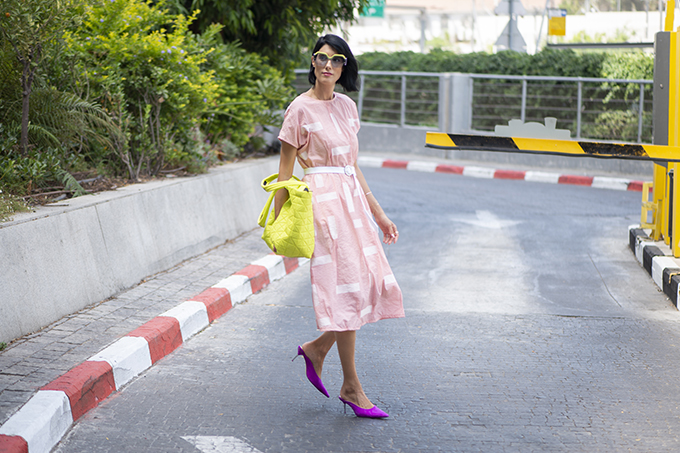 A request that challenged me, was to suggest clothing items with cuts that flatter almost any body type. So apart from the pants I posted on my story, of which a shorter version appears later in this article, I believe that straight cut dresses are an item that would flatter almost every woman.
As you probably understand, I'll always be the first to add a belt to the look, so each of you is free to play with the silhouette as she pleases.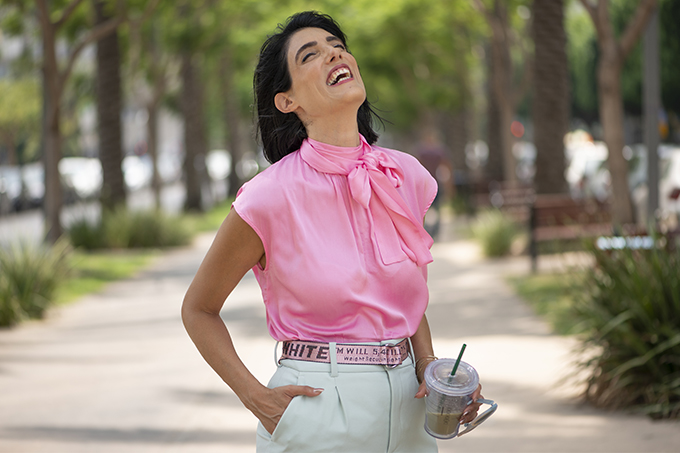 Colorful is me! Or in other words: Don't be gray
I'll wrap up with a final request… This time it's a request from me to you – colors, colors, colors!
Especially now, during the hot summer evenings – let go of gloomy colors! Because black isn't really slimming and there's nothing grayer than the color gray.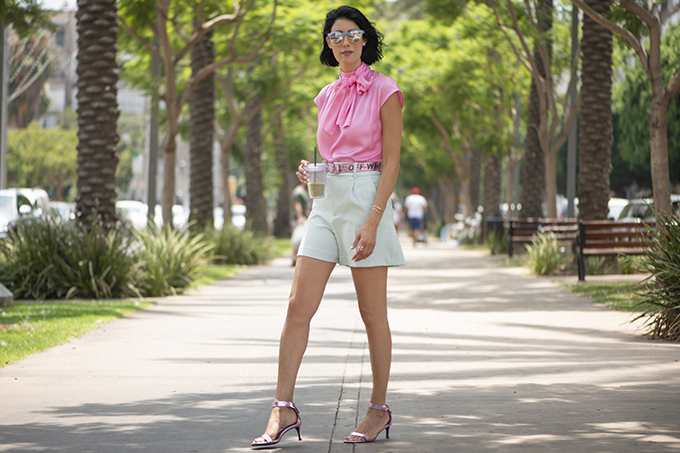 Many colors will suit any business meeting. They'll create a fresh, vivacious look that will help you stand out. Use them!
This is your chance to bring some humor and creativity to the office, to think outside the box and project your lively personality.
Hope I was able to create inspiration,
Have a wonderful day!
my outfits:
 Style for rent – A YELLOW SUIT, WHITE BUTTONED SHIRT, PLAID SKIRT, STRAW HAT, AND ROUND RAFFIA CROSSBODY BAG
 ronen chen – Colorful cotton shirt, green pants, a pink dress, and a yellow bag
kisim – Gray velvet bag
zucker – Cream shirt, jeans (white and light blue), white tailored jacket, short trench coat, silk tank top and dress
luxottica Sunglasses – ray ban, MIU MIU
 Mango – Bow Satin Blouse
 zara – LINED BERMUDA SHORTS
 Private collection – accessories and shoes
PHOTOGRAPHED BY – NIMROD KAPELUTO / HAIR & MAKEUP – LISHE