"It was on sale!" – a phrase that makes my friends roll their eyes and crack up in laughter, every time I put it to use.
What can I do?! I'm my own cliché! Give me a good sale, end of season discount or some unordinary deal – and I'm rendered senseless.
In the past few years, I've honed the skill of locating hot items in discounted prices, so I decided to write a hitchhiker's guide to the world of discounts.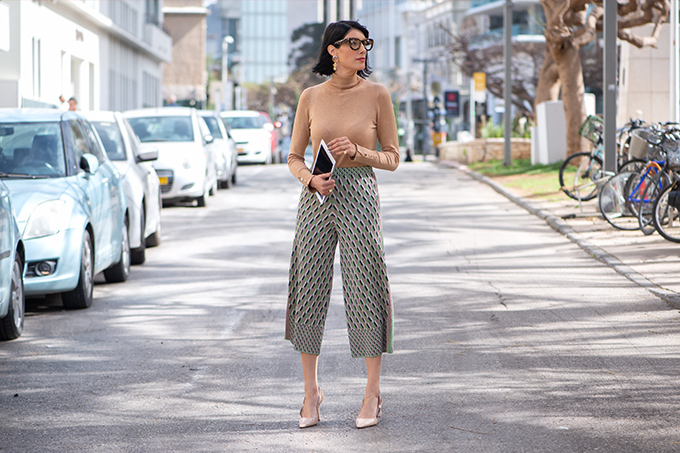 Before I lay out my doctrine in regards to smart shopping, I'd like to point out the fairly recent changes to my consumer habits.
If in the past I used to "hit the mall" once or twice a week, nowadays, purchasing clothes and browsing through shops are no longer a pastime of mine.
I prefer purchasing a quality or luxury item at the end of the season over many daily items during the season (it doesn't always work, but I try). A quality choice over quantity – classic clothes and accessories that will serve me over a length of time, and will always remain in style.
There's no doubt that being a fashion blogger speeded up my withdrawal from shopping, but so did the thought that I'd much rather accumulate experiences over possessions.
But you do watch the videos I post on Instagram stories and see the various purchases I make, specifically – the luxury items I recently collected "because it was on sale" ;-)
So let's see how it's done the smart way!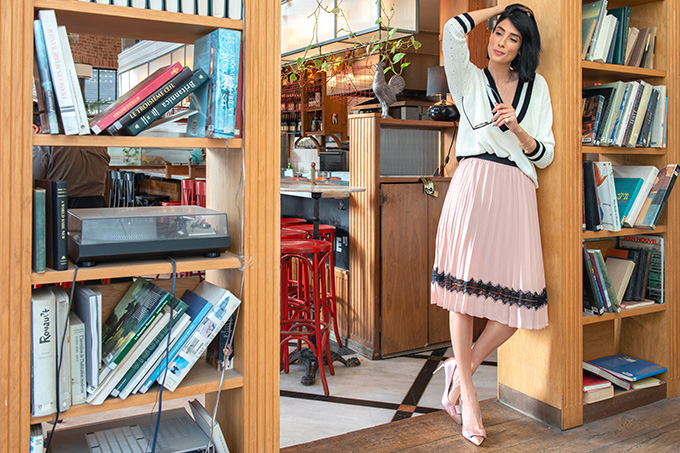 First tip: Focus, determining goals and objectives
No, this isn't a business plan – god forbid. Try to think of the many times you've walked into a store to purchase an item you really needed, and left with completely different items? …Probably resulting in a second round at the shops and further expenses.
So, before I go shopping, I try to understand what I really need – which clothing item or accessory? What style or color?
If possible, I spend a few minutes checking the app or website to see what styles are available at the shops. That way, I'm not confused by the variety on the shelves, or tempted to purchase unnecessary items.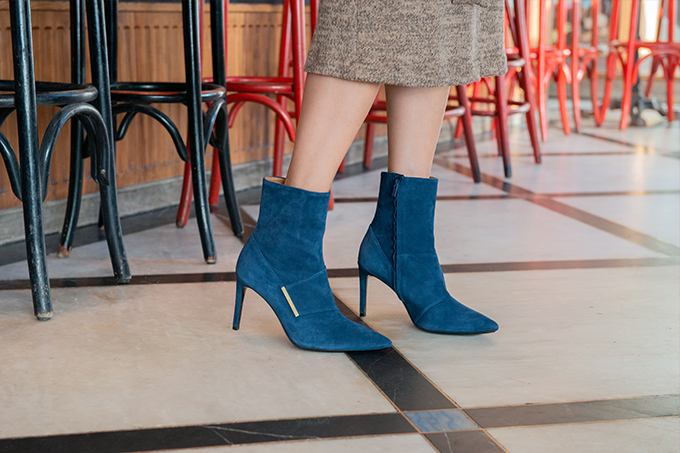 Second tip: Who's afraid of luxury brands?!
Who doesn't want a handbag or a pair of quality shoes, made by a luxury brand? However, the thought of saying goodbye to thousands of shekels tends to send the idea to our designated mental "dream drawer", at least for the most of us.
In addition, many of us feel uncomfortable in luxurious boutiques. Maybe it's the store employees quietly following our footsteps, the fear of inquiring the price of each item (I swear – you need to use WAZE to find the price tags) or just a sense of foreignness. So, allow me to break a few myths on this matter –
First, in order to purchase luxury brand items, you need to come to terms with the understanding that they will never be very cheap. For this is a status symbol, manufactured from high quality materials and in many cases – handmade.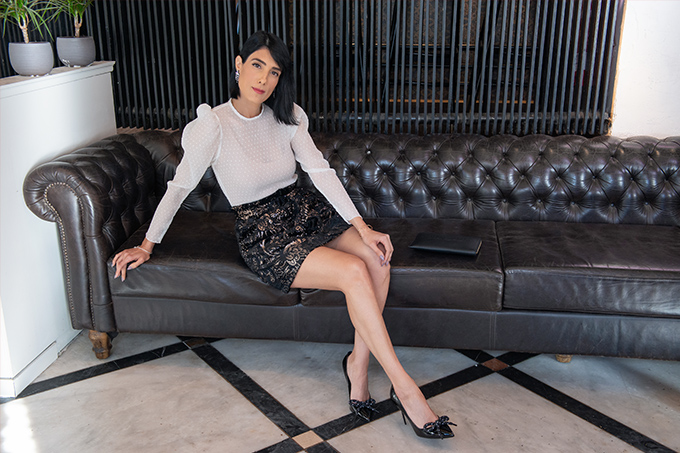 That said, every season there's an end of the season sale for almost all the luxury brands you know, sometimes cutting the price down by 70 or 80 percent. You can find handbags or shoes in an affordable price – sometimes amounting in hundreds of shekels only.
Most stores will place the items in a special corner or a separate floor, so all you need to do is walk in and ask with the confidence of someone who frequents high-end boutiques – "is the end of the season sale still on?"
Be sure that even the most pretentious salesperson has been waiting for the end of the season discount, no less than you've been, and has even told all his friends about the happy event ;-)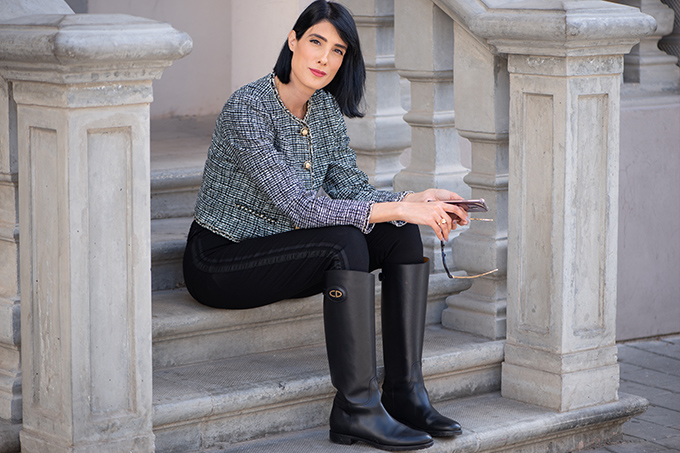 Several treasures I've recently found were nude colored pumps and these classic boots by Dior, purchased at the end of the season sale at Enigma boutique, in Kikar Hamedina.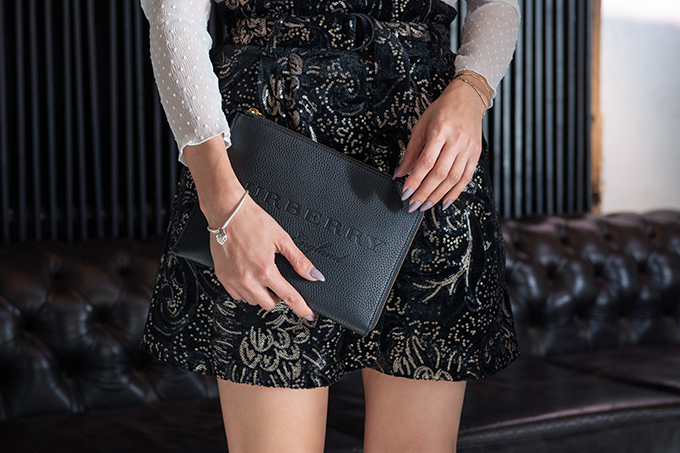 This document case by London luxury brand, Burberry is part of the mens collection, mind you (!), and contains a matching wallet.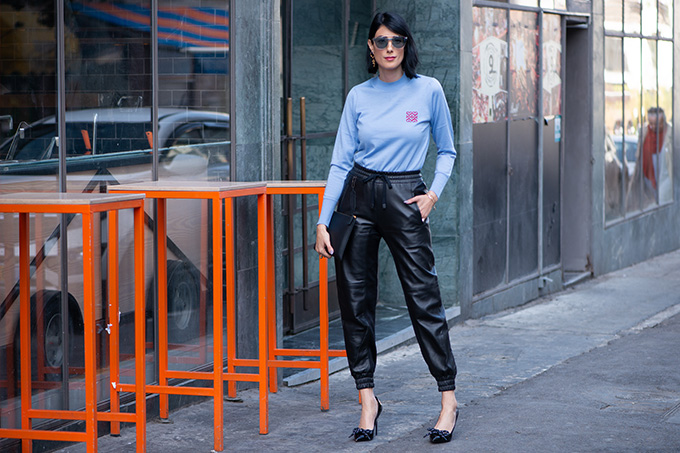 This leather pants by Coach, a brand that is becoming my new love, were purchased at Factory 54 and the perfect knit by Sandro, which was recently purchased in London.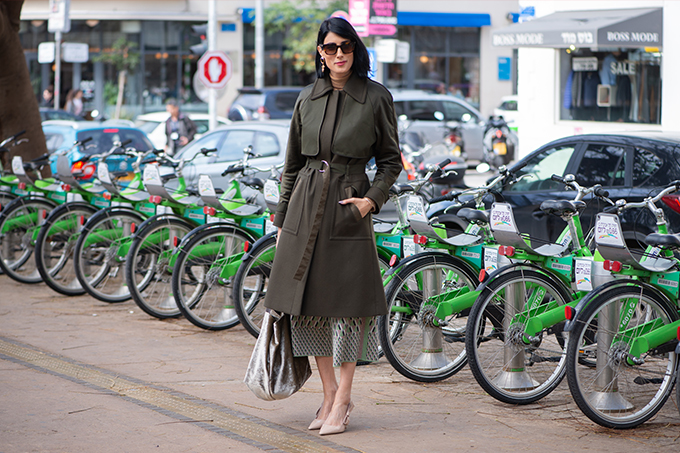 And while we're discussing London, I have to share with you the "find of finds"! A wool coat tailored in the coolest dressmaking pattern I've seen lately by Boss, which was also purchased (wait for it -) on sale!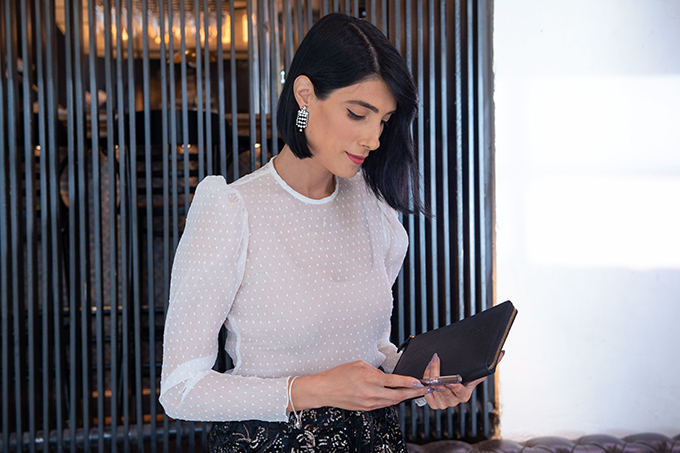 Third and last tip for today – Internet!
I admit I don't tend to order online very often. I like to feel the fabric the clothing item is made of, and I have a less common body type – I'm tall, have wide hips, have a large shoes size… In short – I have to actually try things on. But all this won't stop me, as you now know, from shopping sales and discounts :-)
When it comes to accessories, the internet is heaven. For what's more comfortable than lounging around at home, sitting at a coffee shop or a park bench and strolling through the online stores?! The price is clearly presented and it's easy to filter the search results.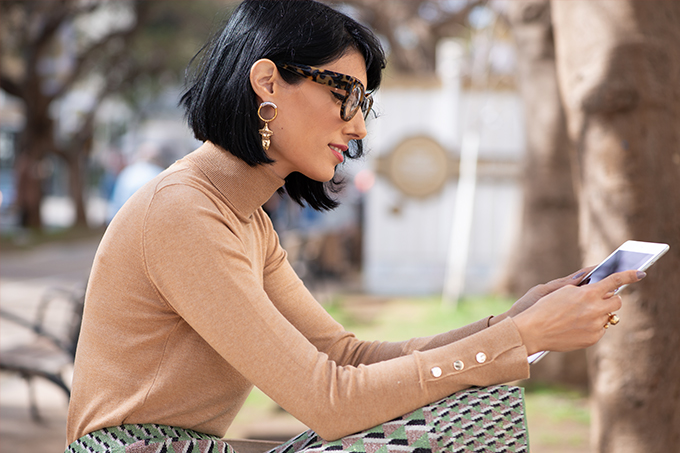 One of the hottest items I found was this earring by Chloé, which I located on matchesfashion.com (where I previously purchased the Fendi one piece swimsuit). a website that provides an excellent shopping experience and great service, while offering prices that are a bit lower than the other popular websites.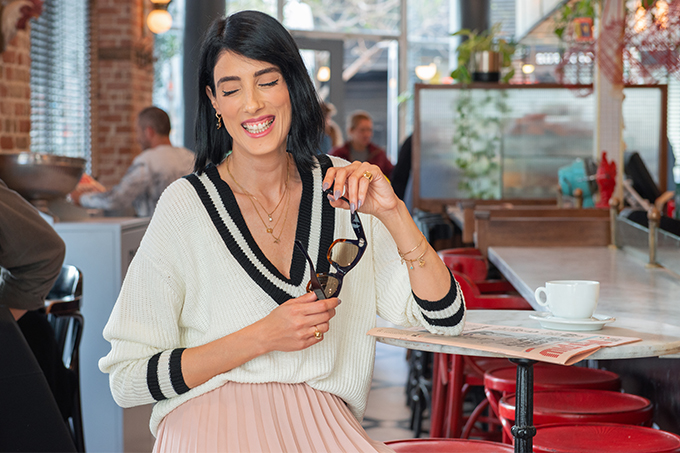 I've also managed to find a solution for shopping online for clothes and shoes – the first solution is Shupperz app – an app that allows you to shop items from various brands (some of which don't offer delivery service to Israel) through a personal shopper. Brilliant, isn't it? You sit at a coffee shop while someone else runs to the store for you, and via chat – sends you pics, prices and handles the purchase and delivery arrangements for you.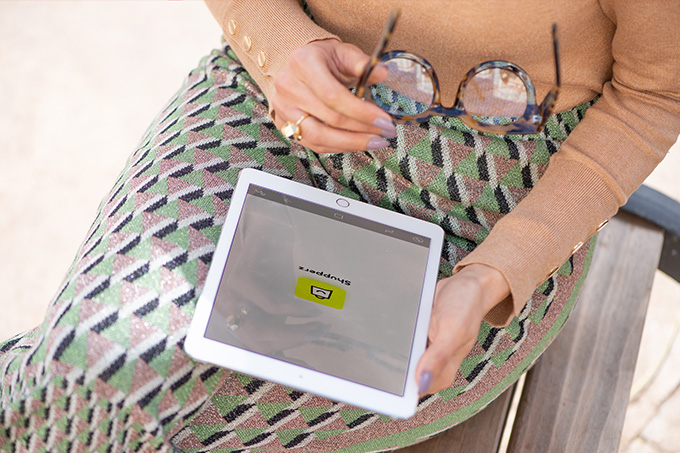 It's not a biased store employee, but a personal stylist that can select items for you based on your personal style, and of course – tell you the truth about the items you're interested in: Is the item as described? Is it soft to touch? Etc.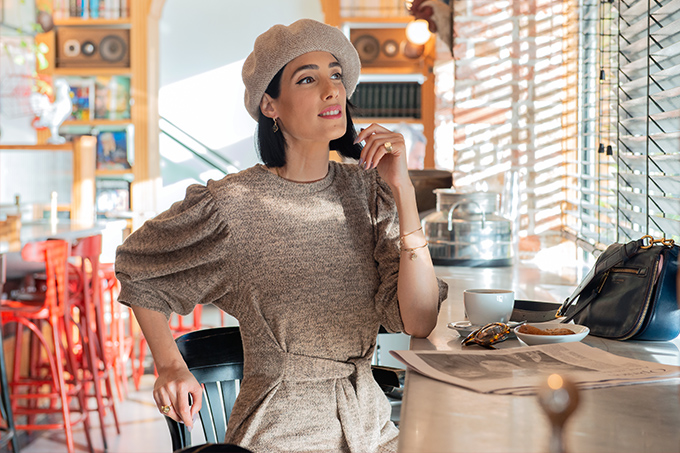 The second option is reserved to those of you who plan to fly abroad. Before your trip, I advise you to visit the websites of your favorite luxury brands and search for discounted items. In most fashion houses, the end of season sale lasts online long after it ends in the stores, so it's worthwhile to purchase items and have them delivered to a boutique that's close to where you're staying.
Why not have the items delivered directly to your hotel, you wonder? … Come on, what are you – children?!
This way you can try on the item and exchange it right away, in case you're not happy with it, and of course gain another discount – Tax Free (the sales attendants at the shop will take care of this for you) … I told you I've developed a skill!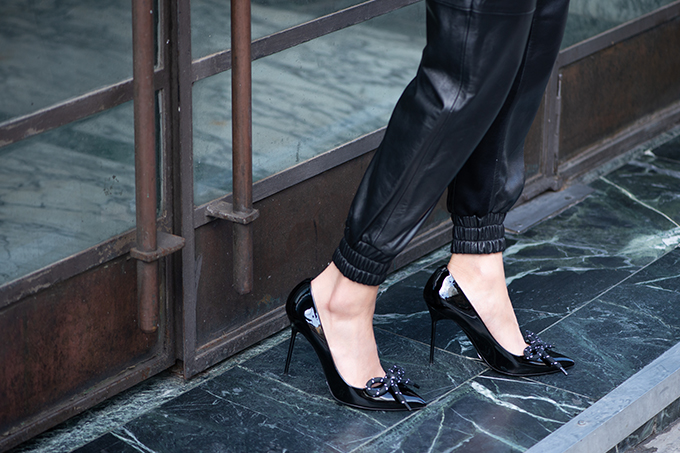 By the way, these gorgeous Burberry shoes were purchased in London using this method.
So, thank god – a new collection is about to launch. Time to show some restraint and pray that the items I covet will remain on the shelves till the end of season sale.
Good luck to us all!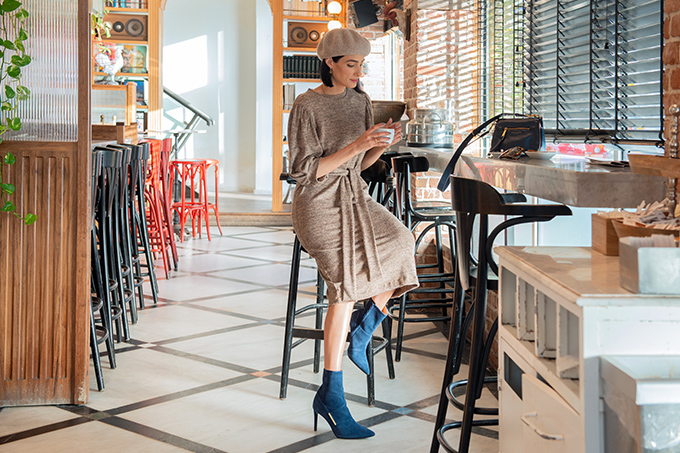 my shopping list:
 enigma Boutique – Dior's pumps & Knee High Boots  
 SHUPPERZ (century 21 new york) – calvin klein's booties, Bishop + Young's white SWEATER
sabina musayev – ADRIANA DRESS, JULIETTE TOP & VIVIAN SKIRT
 factory54  – Coach's Leather Track Pants
castro – LACE STRIPE PLEATED SKIRT
 via rothstein  – chrysler Earring
 matchesfashion.com – Chloé's Earring
burberry – heels & document case
boss – wool coat
sandro-paris – WOOL SWEATER WITH EMBROIDERED LOGO
zara – camel TURTLENECK SWEATER, printed trousers & Beret Hat
PHOTOGRAPHED BY: NIMROD KAPELUTO / HAIR & MAKEUP: LISHE