("Es-rim" – the Hebrew word for twenty)
Perhaps it's the new year that just started, or the fact that in a few months – a new decade begins in my life (talk to me in June), I really don't know… But lately, I've found myself calculating and measuring –
what have I accomplished over the years? What does the path I chose to walk down look like? What goals have I reached and what do the next decades have in store?
As part of my series of articles on career women who inspire me, I decided to feature Yael Rosen Ben-Shachar this week, who's celebrating twenty (!) years of original Israeli creation at "Kisim" (pockets in Hebrew) – the handbag brand she owns.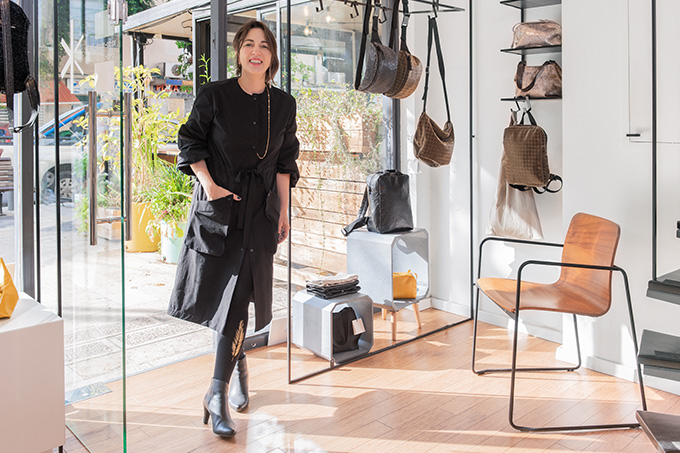 The woman who grew up in a home of merchants and swore she would never own an independent business started Kisim in 1999, when she finished her metalsmith and accessory design studio at Bezalel academy of Art and Design. Since then, she's been operating – with great talent and an infectious smile – an elegant and clean design brand that preserves the traditional art of leather craftsmanship.
When I met Yael, mother of three, I knew I had to ask her how one success in managing a brand for two decades, in an industry so very few survive in?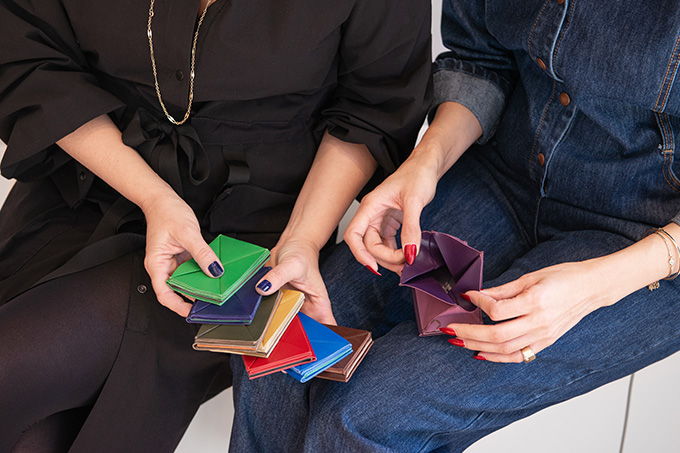 So, what's behind the name "Kisim"?
"A pocket is a space that is close to the body, that permits containing many things", Yael explains with bright eyes.
At Bezalel, we often dealt with the connection between body and product, so it only seemed right and natural. to name the brand – "Kisim"
In the past, it was less common to manufacture handbags using soft materials, that address your body and adjust themselves to it, so I searched for new formative structures that can contain items – seeing as our handbag is so much more than the practical role it fills. We have a whole life inside it. A handbag is like a house on your body, a sort of container that carries very personal items".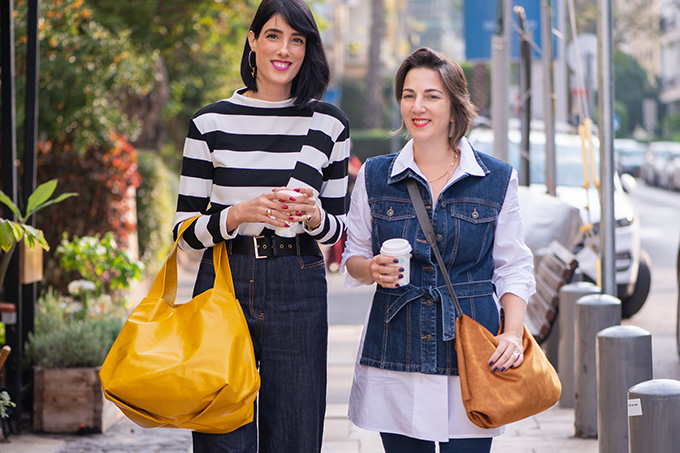 Twenty years is a very impressive period of time. It's hard to imagine, nowadays, how its possible to build a brand in a world with no internet and social media. How did you spread the word?
"How did I actually do it?!" she laughs.
"I would take part in a lot of private (home hosted) sales, and sales held at cafes. Print out flyers, manage mailing lists – those really were different times. In addition, the brand was featured in various concept stores, like the Comme il faut shops, museum shops etc.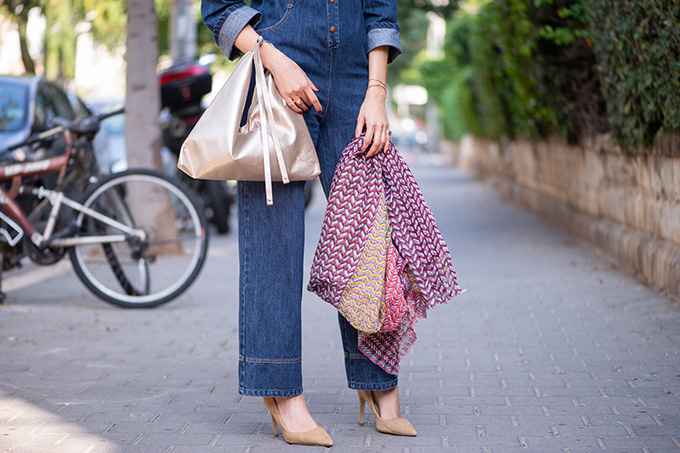 When I was nine months pregnant with my first son, I decided it's time to establish the business – that's when I opened the first Kisim store and studio on HaHashmal street (Tel – Aviv). I remember I'd show up at the store every day with the stroller (who even thought about maternity leave?!) and I was thrilled about every second. There was a feeling of pioneering and reciprocation in the area. Kisim was the fifth store to open in the Gan Hahashmal area, which sadly – has been greatly affected by the construction work for the light rail".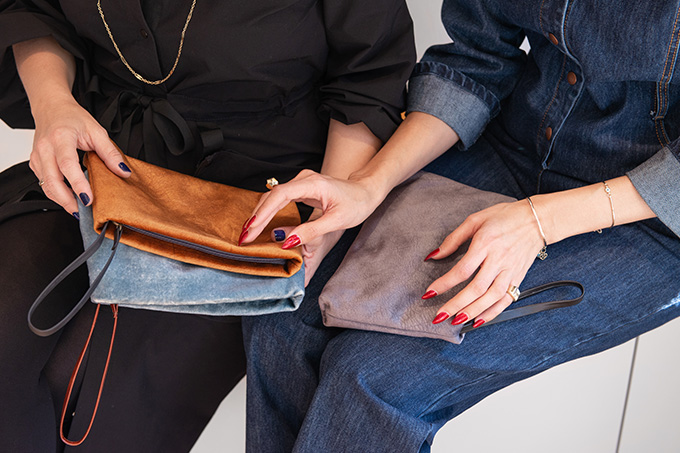 How does one survive for two decades – as an independent business – in the fashion world?
"The key is to always evolve and stay in motion. That said, it's important to maintain the brand's language and values. Don't be tempted to become too current or trendy.
It's important to remain unique – to provide an alternate, meticulous, high standard answer to your clients, and of course – faith and perseverance!
The Kisim brand rests on the border between art and fashion design, so throughout the years we've collaborated with professionals from various fields and managed to stay relevant".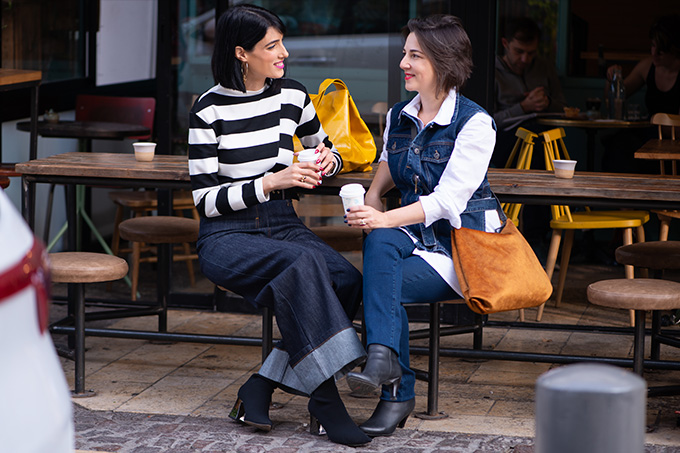 Tell me about your partners along the way
"Over the years, I've surrounded myself with wise and talented women and nurtured a brand that is female in its core. Apart from our service providers and head tailor, almost the entire staff of Kisim is female.
I enjoy working with them very much, they are dedicated workers who are greatly connected to the brand.
When my mother retired, she too joined Kisim and my sister even designed our lovely shop on Basel square (Tel-Aviv).
In general, I've always been surrounded by women. I grew up as part of a tribe of strong, dominant women and my childhood friends are part of my life to this very day".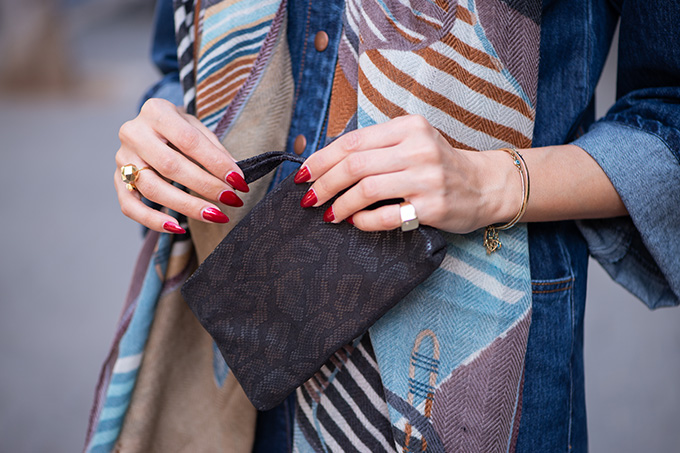 Do you have a tip for a novice designer?
"It's important to understand what unique message you're offering, as a designer, to the audience of clients. What's your contribution? And how does it differ from what already exists around you?
In addition – patience! You need to stop and take a breath, even in times when it seems like an earthquake is going on around you. I remember one day I found out that one of our manufacturers copied an iconic Kisim model and sold it to other stores. It was rattling. But most importantly, don't settle for professionalism. Work with high standard professionals that will "deliver" – photographers, graphic designers – whatever you need".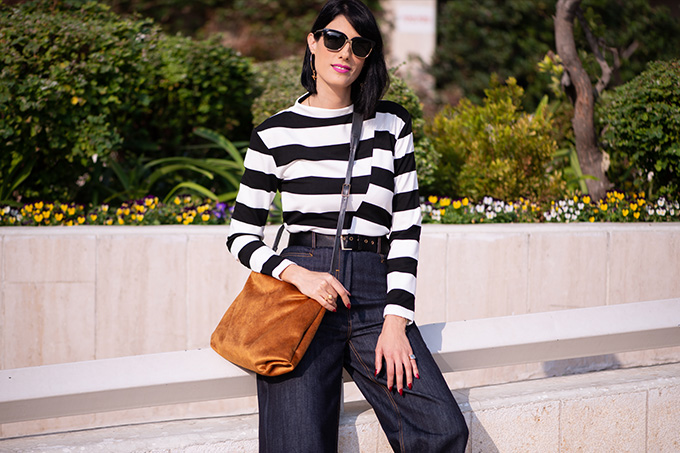 Do you have any pointers for a successful handbag purchase?
"Purchasing a handbag involves thought. In most cases, it's not a whim, it's a process that requires pondering. That said, there's something emotionally freeing about handbag shopping, in opposed to shopping for clothing – for instance. The size isn't relevant, there's a lot of freedom in the process and the variety is infinite. So even the most conservative women could buy a bright colored handbag.
A handbag needs to be useful and able to contain your world. On the other hand, it will also attest to your personality – tidy, firm, soft or flowing.
The material also requires thought. Some women find it important and wish for the contact with the skin to be pleasant, so for them – it's better to choose a bag made from breathing materials".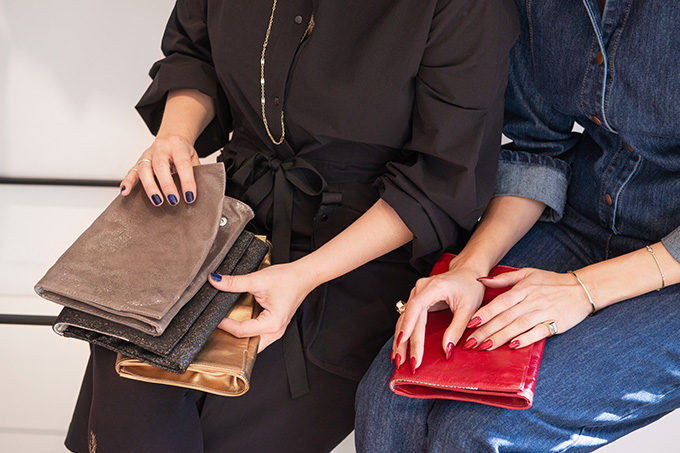 During my series of meetings with Yael to prepare this article, I also met the lovely Aya, who's been accompanying Yael at Kisim over the past few years. Meeting both of them inspired and left a strong impression on me.
The two smiling women – spreading warmth and love in every direction, proved to me that there's no need in "sharp elbows" or strength to succeed. Confidence, perseverance and dedication lead to accomplishments, and sometimes – you need to detach your feet from the ground in order to rise up and touch your dream.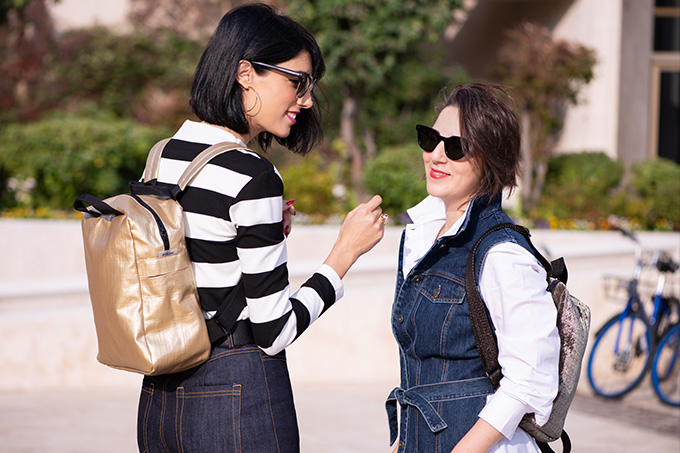 I don't know many young women who maintain a twenty-year career with such passion and excitement – as Yael does. I wish to be in such a place over the next decades.
So, to celebrate the launch of Kisim's glamorous birthday collection, I'd like to wish Yael and the wonderful women who are celebrating "twenty" great success, fulfilling productivity, excitement and happiness over the next decades as well.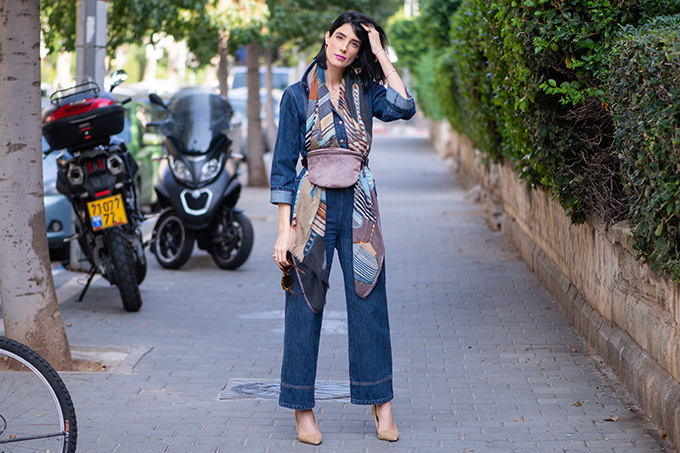 Congratulations!  
Bags by: kisim
looks by: ronen chen  
PHOTOGRAPHED BY: NIMROD KAPELUTO / HAIR & MAKEUP: LISHE