Paris Fashion Week ended, leaving behind a collection of experiences and memories that continue to echo in my head. One of the most pleasant and exciting surprises of my journey, was the Céline fashion show.
I made the decision to jump in with the big kids and go to Paris fashion week. A decision a little far-fetched, if you think about it, for someone who until a few months ago was a legal advisor at an investment house, and undoubtedly one of those challenges that only I can set myself and believe that they were actually possible to achieve.
Planning the visit to the City of Lights took weeks and was filled with uncertainty until I stepped foot on that plane. On the evening of my flight, while I try to stuff my bits and pieces into my suitcase, praying that this one reaches its destination safely, the long-awaited phone call had arrived. On the other line was charming Danit, the owner of Enigma boutique, excitedly telling me that House of Céline would be happy to welcome me to their fashion show that will take place in Paris in five days time. As she spoke I stared at the overloaded suitcase that stood in a corner of the room and the only (and embarrassing) response I managed to let out was – "OMG! I have nothing to wear!" :- )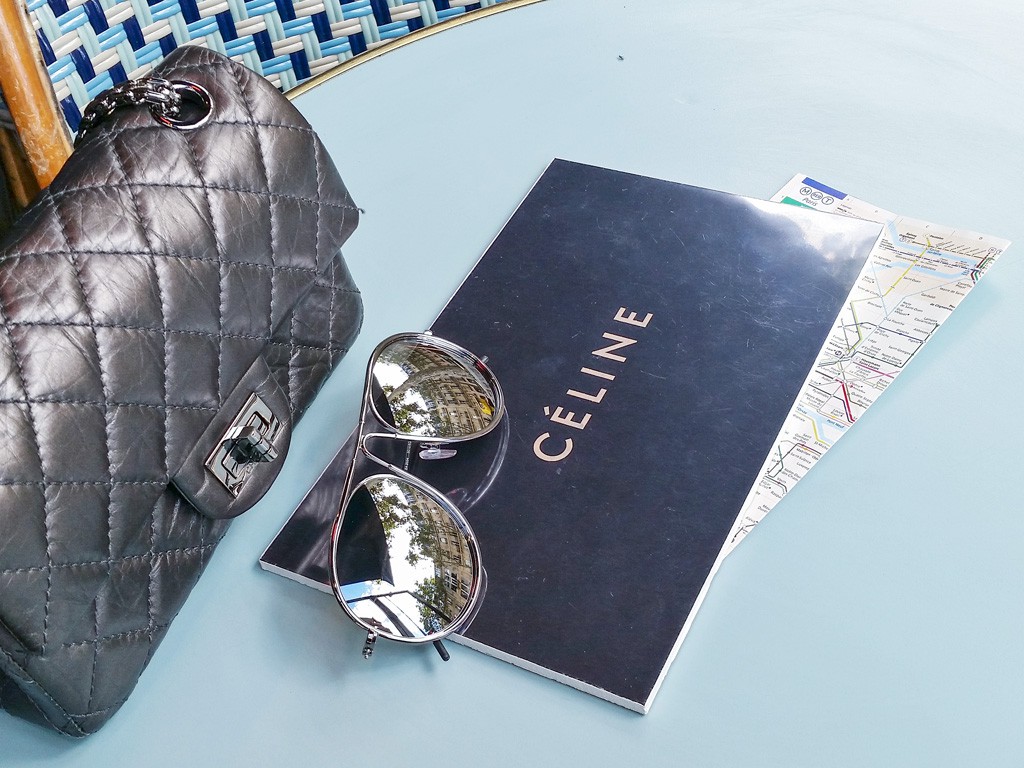 Five days later, on Sunday morning, and after I found the perfect outfit in Paris, I went to the tennis center to watch one of the most intriguing shows of Fashion Week. After I passed distinguished editors, actresses, models and other dignitaries, I took my place and began to aim my camera light to the background scratchy noise of heavy vehicles and motorcycles. At first, I assumed that the noise came from the nearby street, but soon I realized, as the noises repeated themselves, that the minimalist venue decoration was made to look like a busy street located in the heart of the central business district, and was a hint of things to come.
The show opened with the sound of fast electronic music, simulating a busy road in an urban environment, which developed and changed as the minutes passed, so that each group of designs was accompanied by a unique ambiance that characterized it appropriately. One by one Céline's "businesswomen" strode out and presented a diverse, colorful, and strong collection full of contrasts – dresses made of soft and fluffy fabrics, along with stiff oversized suits. Shoes whose colors didn't match, massive bags that contradicted the thin models and other items that raised great curiosity and kept the audience's close attention. But above of all, the sandals worn with thin nylon stockings made me realize that the "sock trend" will stay with us for many more months to come.
The collection presented by Céline reminded me of a hardworking career women hurrying to their destination, and closed a chapter in my personal life. I had the opportunity to simultaneously look at my past and future, while experiencing the amazing feeling that someone believes in me and wants my success.
Thank you Céline for the wonderful opportunity! I Promise not to stop dreaming!
JUMPSUIT: claudie pierlot / HAT & SHIRT: PERSONAL COLLECTION / HANDBAG: chanel / SUNGLASSES: armani – AVAILABLE AT erroca / heels: zara /
PHOTOGRAPHED BY: Céline & Asaf Liberfrund – Tel-aviv street vibe
THANK YOU: enigma boutique