The Covid 19 pandemic, along with the financial crisis and the combative state of mind that has spread like fire in the country lately, have pushed us all to become more practical, leaving us less time to be "dreamers". Truly, who has the time for ambition when all around us businesses are experiencing such hardships and are closing down?!
Personally, over the past few months I've felt uncomfortable posting content on social media. Don't get me wrong, escapism is awesome and is very necessary some of the time, but I certainly didn't want to seem detached.
As for inspiration… That's another challenging issue. Inspiration isn't spread across newspaper pages, nor is it displayed on billboards along the Ayalon freeway.
And so, I sought out to find inspiration. Because this new day-to-day routine is here to stay (at least for the near future), and we all must "own" at least one dream or one pleasant thought, to ensure that at the end of the day – a smile is brought to our face.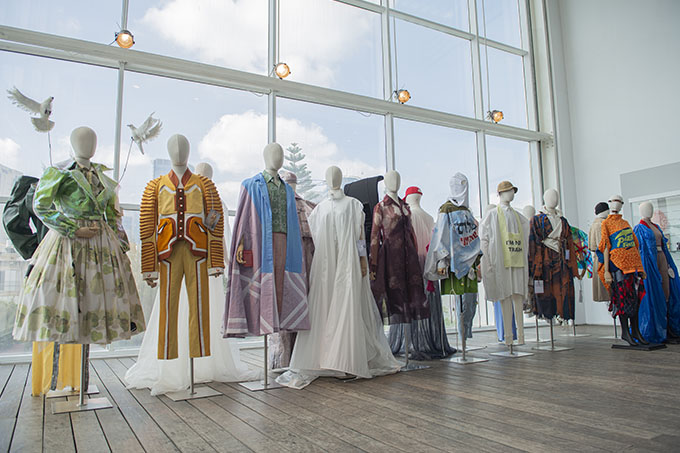 It is well known that when you're searching for something – the best thing to do is to return to square one. So, after heading to the desert and revisiting my childhood sceneries, I decided to visit the place that produced the best Israeli fashion designers around the world –  "Shenkar's department of Fashion Design". To be precise, I was invited by my good friend, Ilan Beja – head of the design department, to view the reveal of the graduate collection. These 43 design students finished an extremely creative, four year long academic journey, during a year that will be remembered as a year of turbulence – troubling in a way the world had never known before.
The graduates presented such exquisite, avant-garde collections that were so carefully planned, daring and filled with imagination and color, that for a second – it was hard to believe the creatures were still only students. Each and every one of them told a story and presented – in a most inspiring way – the journey that led to their creation.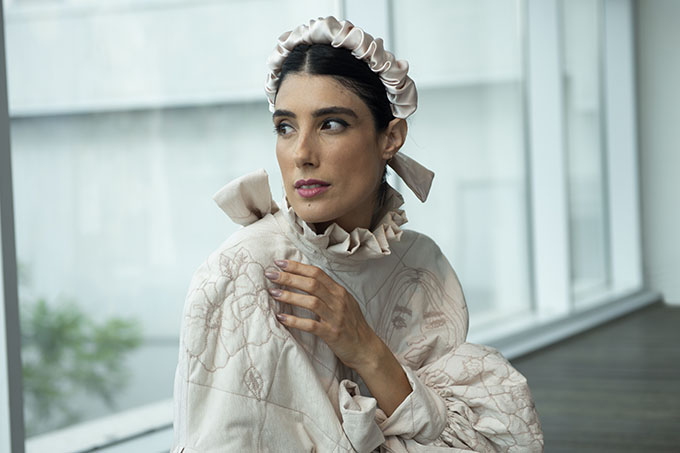 I picked out three stories and designs I found particularly interesting, but I urge you to explore the graduates' website and to have a look at the rest of the designs.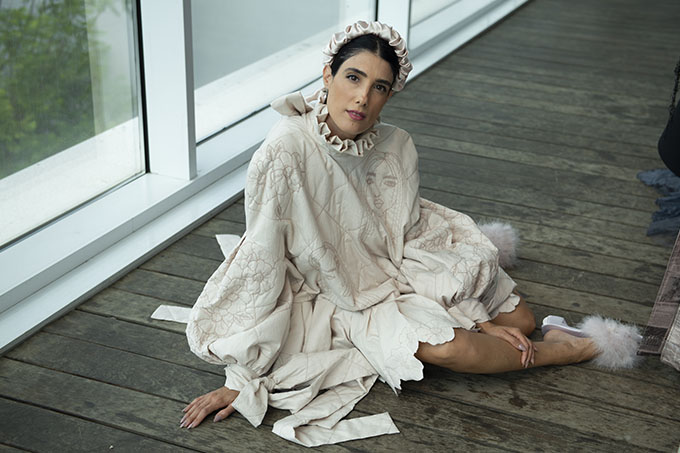 Ann Dahan \\ Safe zone 
Ann's search for a safe place led her home, to her bed, her pajamas – which gave her a sense of belonging, warmth and love.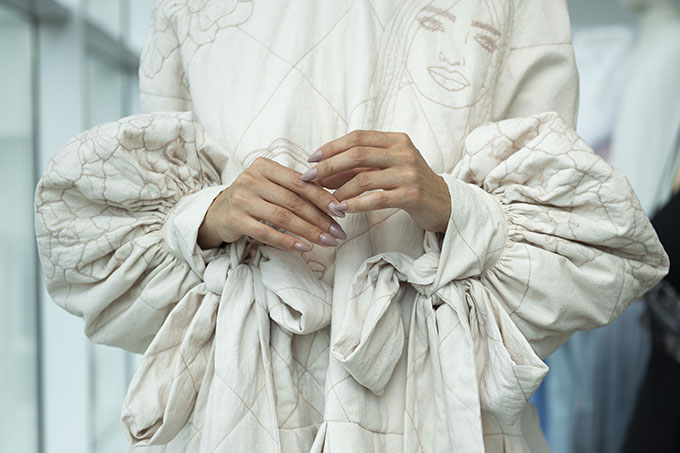 The inspiration for this collection was drawn from an Iranian fiber artist called "Ashkenazi Miriam", who embroidered the faces and positions of sleeping people onto white and cream pillows.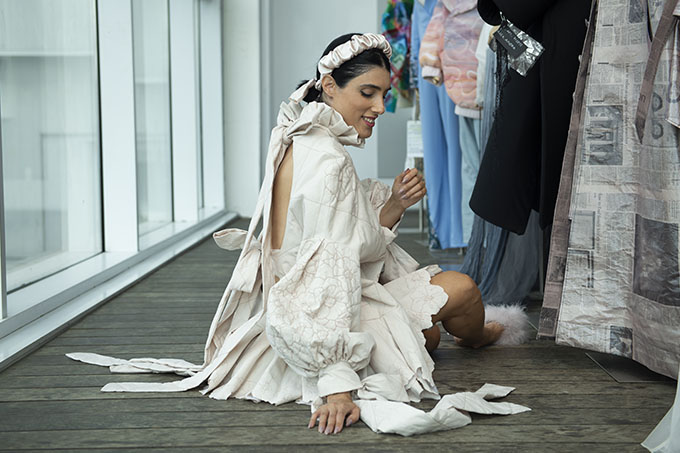 The dreamy and surreal atmosphere that Ann presents in her collection, touches subjects such as dreams, beds, protection and love – using soft tones of pink and white. Dresses with wide silhouettes and lingerie items emphasize the contrast between the vulnerability and protection. Embroidery and images that express personality and sensitivity, are displayed on fabrics that are soft to touch.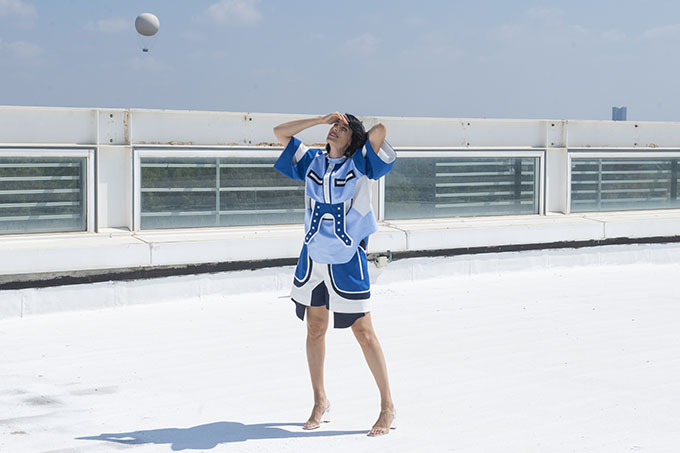 Tomer Stolbov \\ Built to wear
Tomer Stolbov's menswear collection is a rich display of color, texture and patterns that come together to form a "total look" – from head to toe.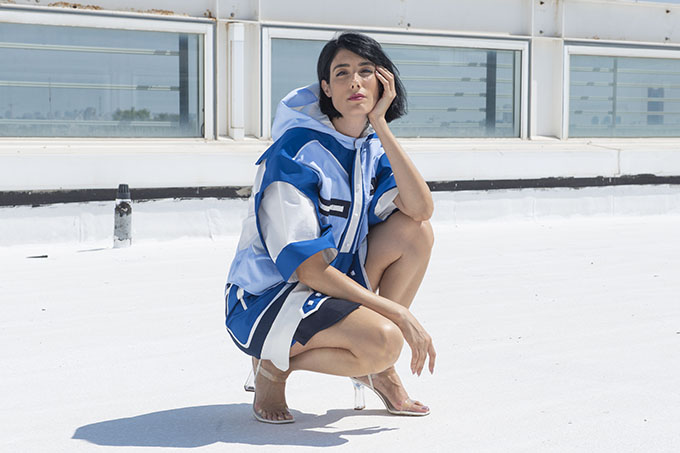 The design inspiration comes from the Bolivian city of El Alto, the second largest city in Bolivia. It is characterized by buildings called "Cholets", designed by Bolivian architect Freddy Mamani, which are remarkable in size, unique geometric lines and their rich color schemes.
The signature geometry, along with the similarity between the construction of these buildings and the inner structure of tailored garments fascinated Tomer, moving him to create a wearable translation to Mamani's shapes.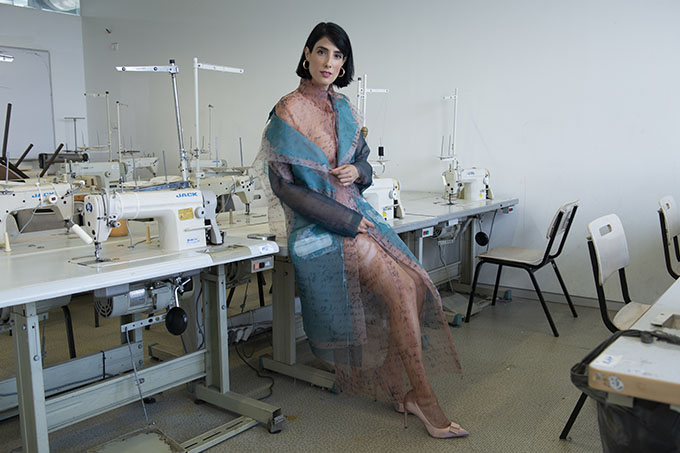 Ayelet Kolpak Aharoni  \\  Like Flowers in the wind
Ayelet's graduate collection touches the memory of her family, that died during the holocaust, in an attempt to reduce the generation gap. The extent of her family memories amount to a single letter – dating back to 1940, and several black and white photos. In order to assemble the story of her deceased family members, Ayelet reproduced their last family picture in color, bringing them back to life.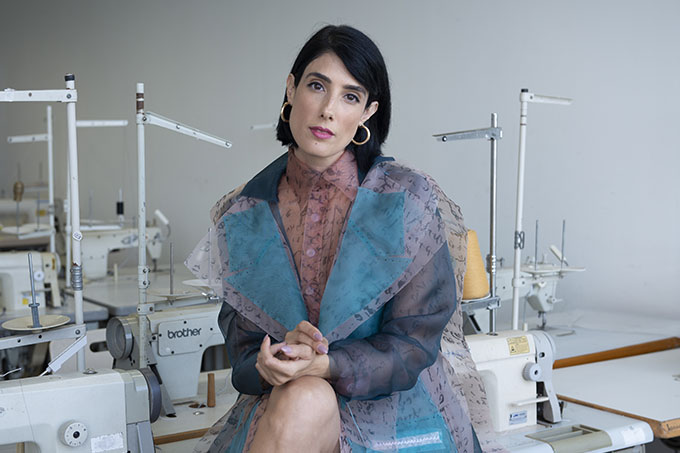 In this project, Ayelet projected her inspiration onto the works of Korean artist Do Ho Suh, building a collection that consists of five women's total looks. The pieces were made using a transparent bodice net, dyed in a color scheme that was taken from the family photo. The memories were translated into garments by decomposing clothing patterns that are seen in the photo, combined with prints from the letter content and negative flower embroidery – expressing the gaps in the family story.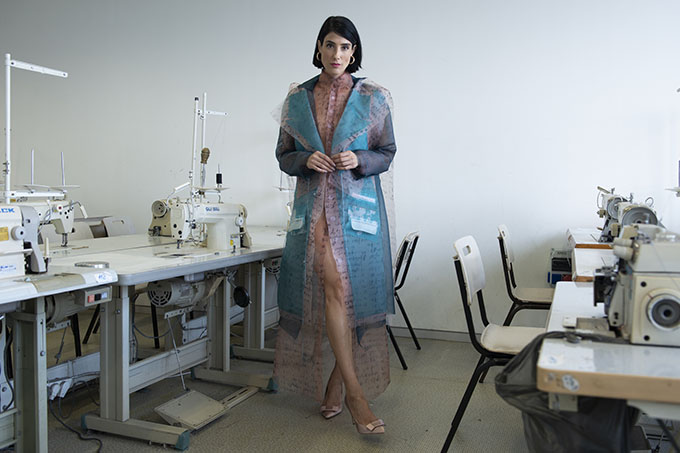 As you can gather, this isn't a very practical article. The beautiful clothes I wore won't be found in stores in the near future, but I hope this article succeeds in providing you with inspiration, and a little something to dream about ;-)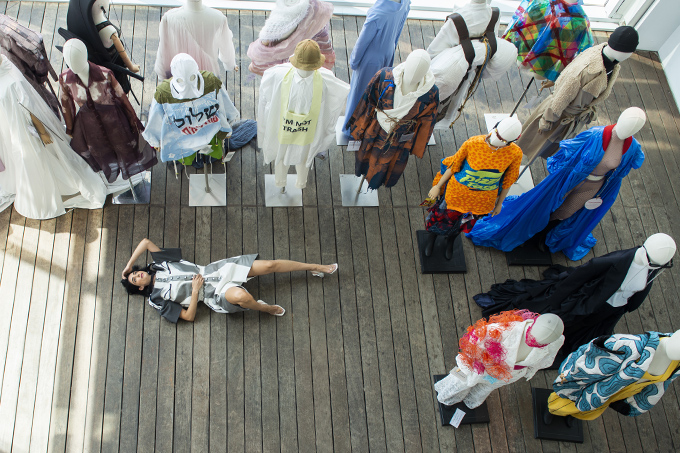 To the graduates, I'd like to wish great success and may you get to fulfill all your dreams, so that the fashion industry in Israel and in the world continues to light our lives – the way a colorful rainbow shows its light, after a gloomy day.
Wishing you the best of health!
I'd like to extend a special thanks to Ilan Beja, who ensured this wonder took place
Photos taken on location around the Shenkar campus
PHOTOGRAPHED BY: NIMROD KAPELUTO