(Wedding bells ringing)
We may not have a magnet on the refrigerator from Meghan Markle and Prince Harry's royal wedding… though it could have been nice to take a picture with Aunt Elizabeth, wearing ridiculous five-storey hats. But don't worry, wedding season is here and many magnets are making their way to us, since the party doesn't start without a show magnet (seriously now, who invented this nonsense?!)
So in order to prevent you from looking at a yellowing picture in a couple of years, wondering "what was I thinking when I wore the dress?" I decided to collect for you a number of recommendations for putting together a glamorous and on point look for the event and festivity season.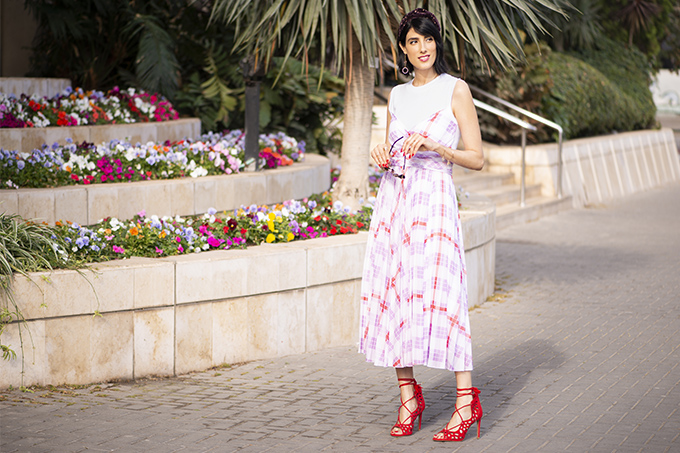 Noon weddings
I personally like weddings held at noon, they allow us all to arrive relaxed and not drained after a workday and waiting in traffic. Like everything else in life, the sunny event also presents quite a few challenges, of course – did anyone say sweat stains, frizzy hair and a falling hazard from heels stuck in wooden floor grooves?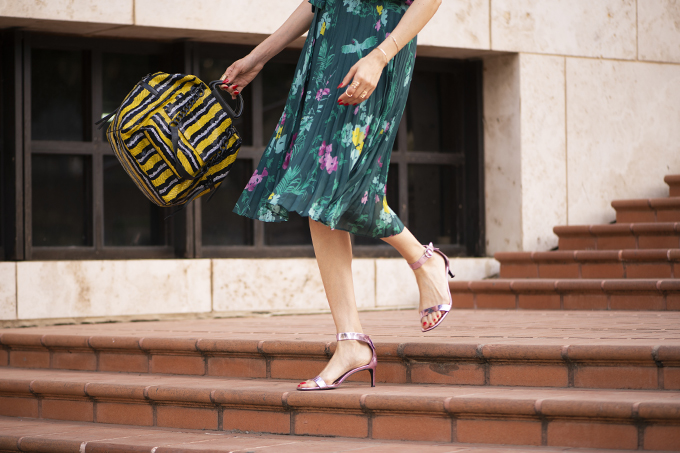 When it comes to events held at noon I recommend adopting a light look, achieved with clothes made of soft and airy fabrics. As to color, you should be creative and choose light shades or bold colorful prints.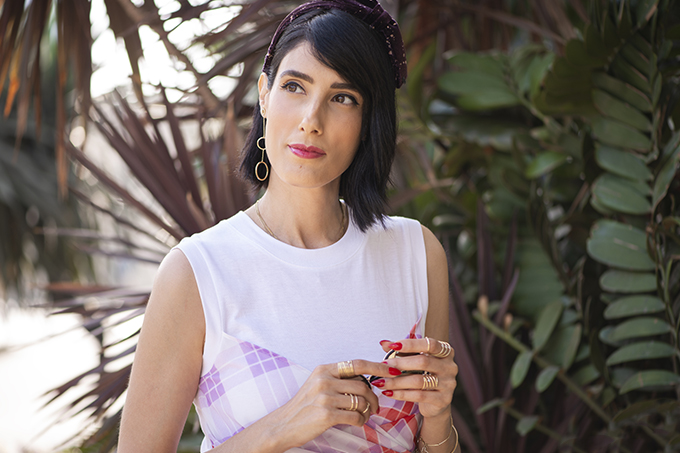 We may not be in Europe and few women can look amazing in a pointy hat with a feather. But the midday sun offers a wonderful opportunity to wear colorful sunglasses and flaunt head accessories like scarves, bows and hats, which will make the look more interesting and add a lot of style.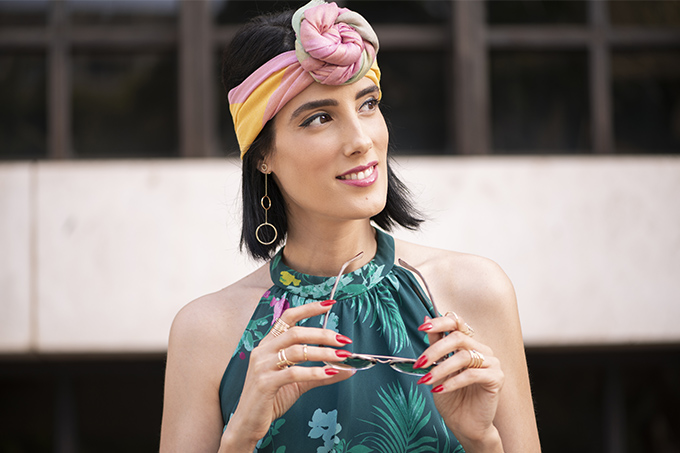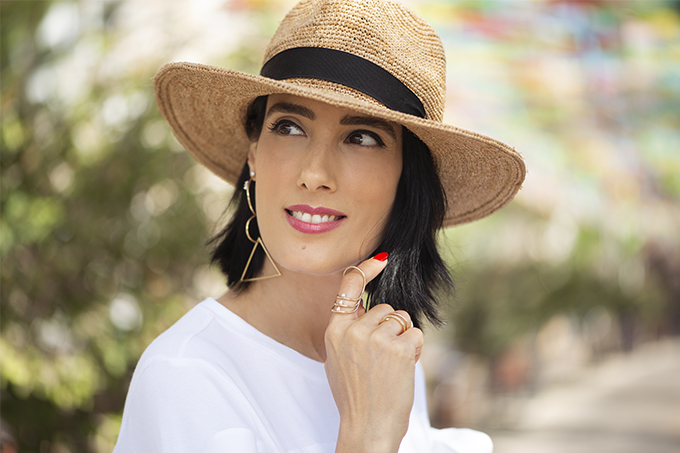 As to makeup, it is better to avoid metallic eyeshadow, bronzer and unnecessary highlighter, which may create an unflattering sweaty look. Stock up on powder and don't forget to pack flip flops and a fan. You'll thank me.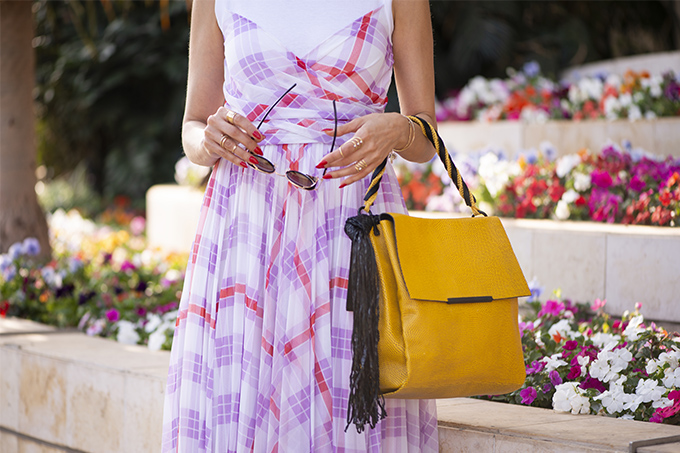 Playing it safe
When it comes to the external appearance, I always prefer colorfulness and boldness. But sometimes an invitation is received for a wedding of unclear style – a coworker's, the neighbor's daughter, a friend of a friend's, or whoever it is. So a classic mistake-free look is required.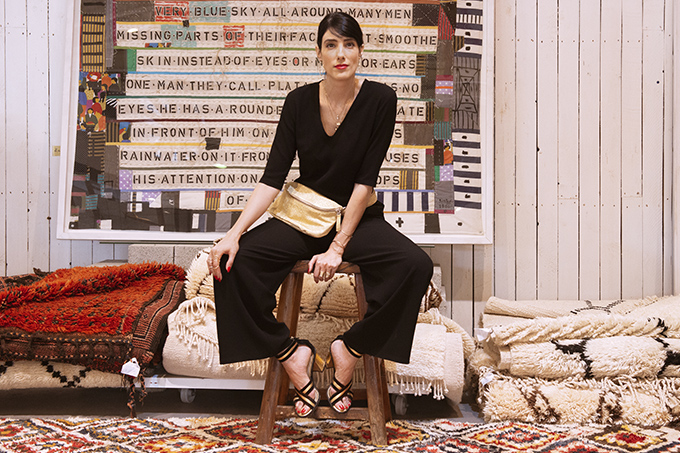 In this case, I make an exception and recommend playing it safe. After all, we don't want to be subject of tomorrow's office kitchen gossip.
This is an opportunity to air out the little black dress or to experiment with sophisticated jumpsuits, but don't forget to adopt a personal style, since we're not like everyone else ;-)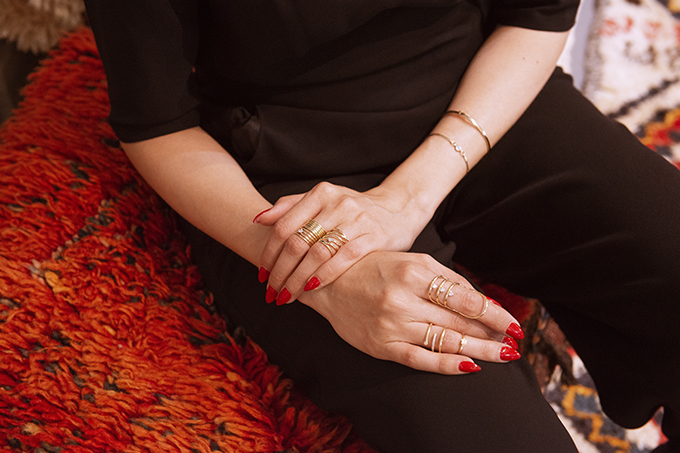 Combining red lipstick and metallic colored jewelry and accessories with an elegant item will create an interesting, up-to-date, and different look.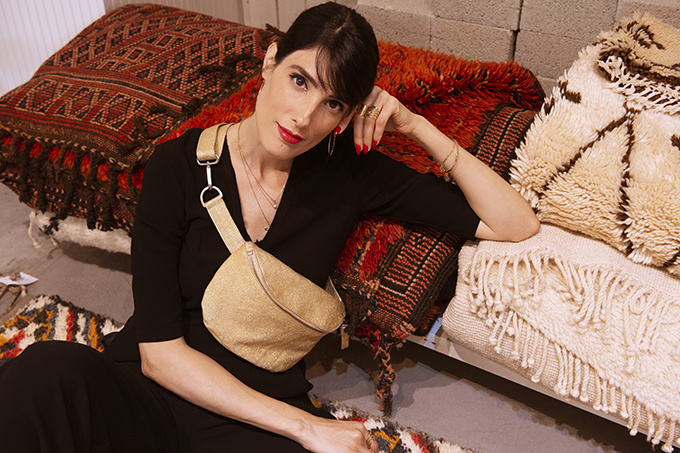 Dress code: sparkling!
You know those weddings that end with us sprawled on the couch with feet aching from dancing? They are especially good at making us happy and touching us. We dieted for them, had facials for them, embarked on journey to find the perfect dress for them, in short, we did everything to look glamorous on that special night.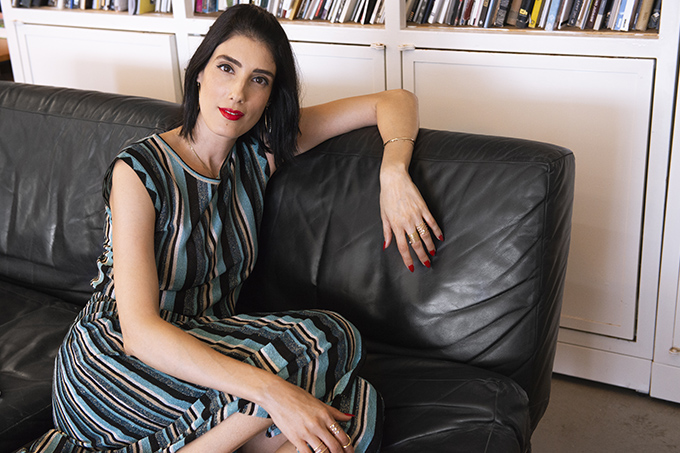 Such events are a double celebration for me. As I wrote in the DAYTIME DISCO article, I have a soft spot for sparkling things and few chances to combine a number of golden items. So when it comes to bling-bling, my rule is that there are no rules. Golden sequins can be combined with silver fabrics, which can be combined with bronze colored accessories.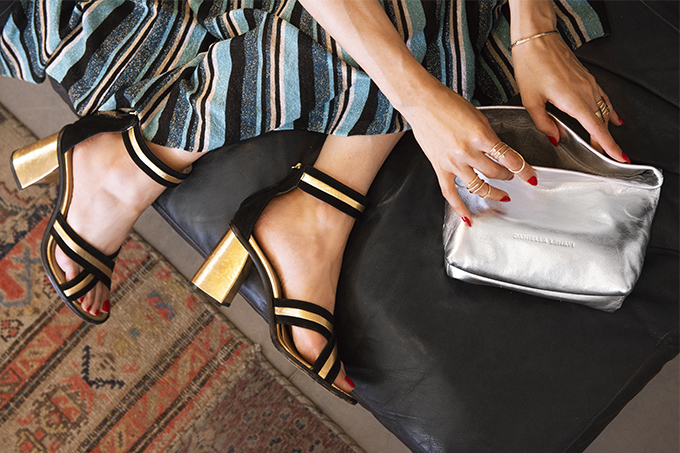 But if I must be precise (… and I must be precise), the only rule regarding sparkling things is to choose items made of high-quality materials. Feel the cloth, check the sequin and bead density and of course the shine and the color. By the way, if you are hesitant about sparkling items you can settle for a small shiny handbag for a classy and stylish look.
I hope I've succeeded in clarifying things a bit and inspiring you. Best wishes!
my outfit:
STUDIO VENDOME (TLV FASHION MALL) – Marella's Floral print Dress \ MARELLA'S Striped lurex knit midi dress \ Sportmax's Chequered Dress \ IBLUES's SCARVE
comme il faut – jumpsuit & location
Daniella Lehavi bags
H. Stern – Gold jewelry
Maison Michel – Headband
bcbgmaxazria – gold SANDALS
zara – RAFFIA HAT \ red & pink sandals
PHOTOGRAPHED BY: NIMROD KAPELUTO / HAIR & MAKEUP: LISHE