From the day I decided to let the comfort zone go and turn to a new profession I got a lot of support and encouragement from those around me. But the word that kept repeating itself was "courage".
But if you thought I was brave, wait till you to meet Limor Zohar Shavit! A member of the career women secret club that is a great source of inspiration to me.
Limor and I met years ago through mutual friends. A woman whose emanating smile and warmth engulfs you before you even meet her. Packed in a tiny body, a glorious pile of curls and dressed in the trendiest clothes that make you feel as if you're stuck at the "Carmel Beach" train station from 1998.
True, for more than a decade Limor worked as a stylist for TV shows and as the main stylist for Castro, but beyond her highly developed fashion sense, this is a woman with a vision, a mission and a load of courage, that took upon herself to empower and nurture women.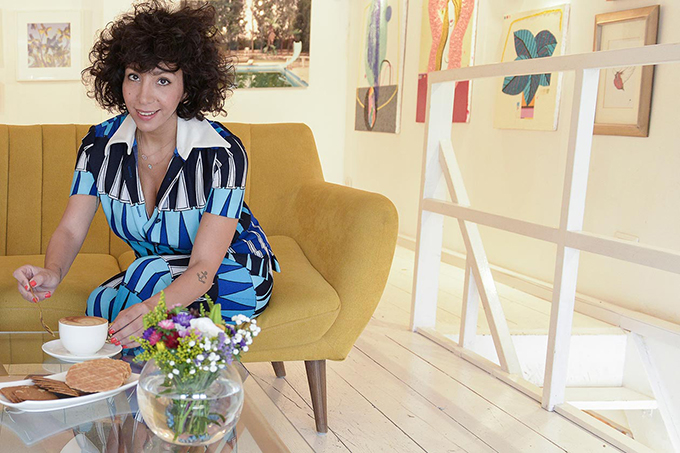 Two years ago, Limor (mother of two adorable toddlers) left her desired position to start up "Artemisia" – an independent commercial gallery that supports and provides a space for women's high quality art. This exhibition space houses many works in a French salon style, while on the second floor of the gallery lectures and workshops are held on topics of interest that relate to a woman's day to day life.
I met Limor for coffee the morning of her birthday, which was an especially busy working day for her ("Who even remembers?! when you're a mother you forget your birthday, but do remember Mickey Mouse's birthday"). Wearing a wonderfully colorful suit, she turned to me cheerfully and said – "you haven't had one like this on EIGHT30, eh ?!" :- )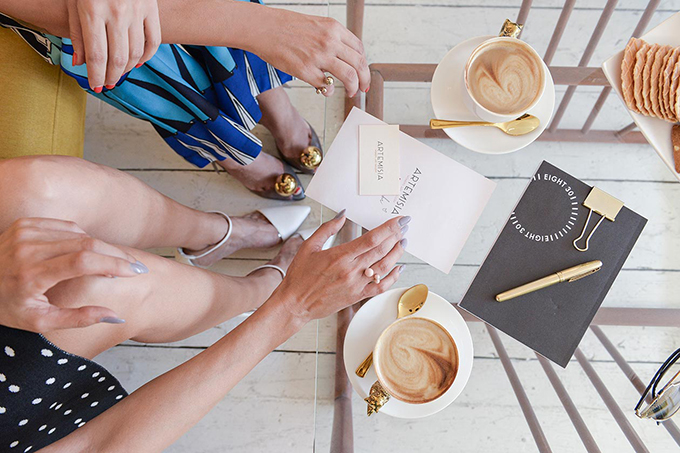 Where would we find you at eight-thirty in the morning?
You can find me in the car on the way to kindergarten with the girl who really runs my life, my three year old, and my little one month old son. I start the day in full power and fantasize about that moment I get to drink my coffee.
If you didn't own "Artemisia" – a house for creative women, surely you would …?
Surely I would be working in an organization that supports women or helps children in need – Something valuable, significant and influential. I highly recommend for you to try it when your life is feeling a little challenging, it does wonders!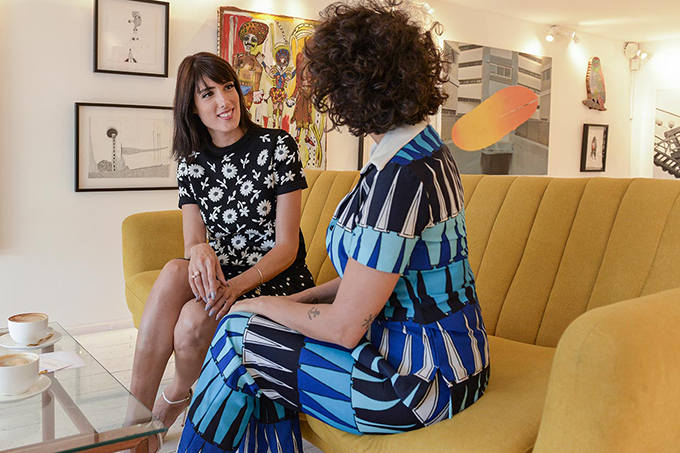 What will you never wear to work?
"I will never say never again".
From my background as a stylist and now as mother of two (haven't quite gotten used to the new status) I find myself changing and adapting to anything, as needed, and manage to surprise myself every time. One thing is for sure, there's no way you would catch me without a bra.
Tupperware, delivery or lunch outside?
Lunch outside but actually inside. Next to the gallery there is a magical place that brings me wonderful food right up to the gallery door. There's nothing better than that!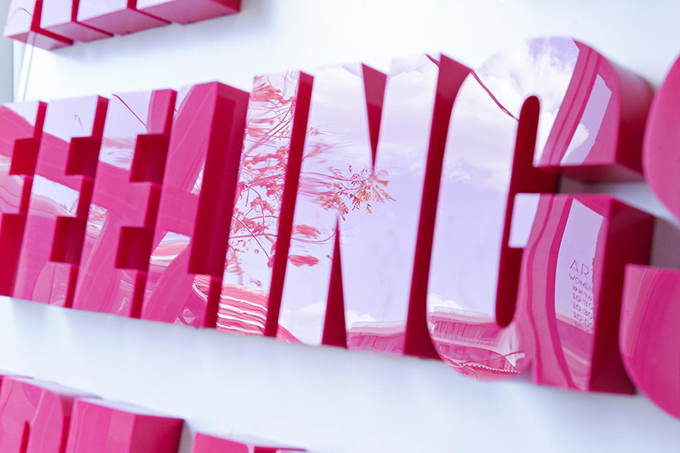 Have you got a tip for managing a successful career?
Woman to woman, always remind yourself how amazing you are and the extent of your abilities.
Never apologize for being a woman, it's a gift! If you're a career woman and mother – Good on you. Remember to give yourself some credit every chance you get and don't be hard on yourself.
As a businesswoman always remember to hear the "noise" outside around you, but always listen to your inner voice.
I'll summarize with a powerful phrase that a good friend always tells me – Talk nicely to yourself. We tend to be harsh with ourselves and very critical, so it's important to remember to be good to ourselves before we demand it from those around us. And perhaps the most important thing – you know what you want so go get it!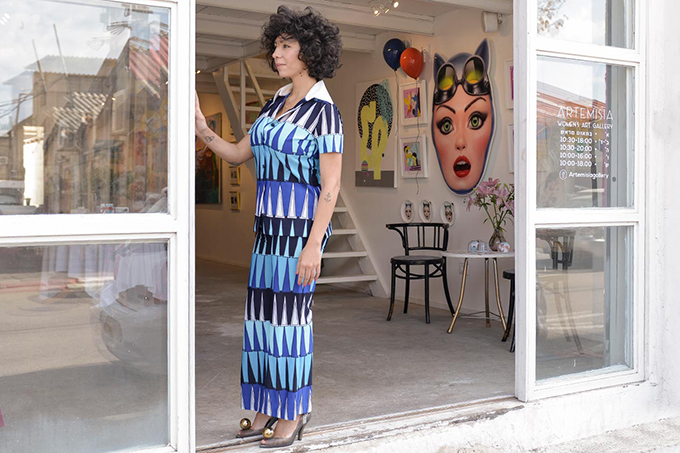 Have you got a tip for managing a successful wardrobe?
Heels! They always lift up your look and your mood.
Don't be afraid to wear an animal print dress that will bring out the tigress in you. If you're pregnant, love yourself, show off your pregnancy, feel sexy, 1000% woman.
Don't just go for the comfortable, invest in yourself!
Plus, a good bra changes your whole robe, no matter what you wear, and once in a while try to add a new color, one that you don't have in your closet, it can surprise you.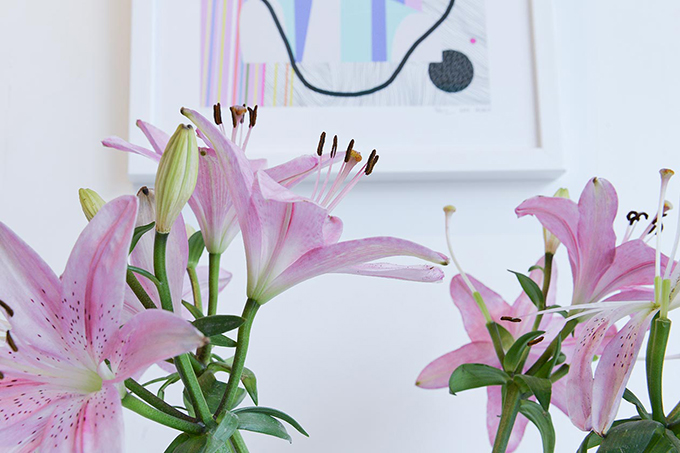 Entrepreneurship in the arts – possible or pretentious?
Entrepreneurship in the arts is possible, just as any dream can be fulfilled, or at least try to. I think that today, more than ever, people want to consume original art, they're more into decorating their living spaces and want to upgrade them.
I offer quality art in my gallery, original, women's art for accessible prices, art that will upgrade your home and give it some good energy.
In business, it's very important to be attentive to your audience and their needs and not be afraid to try new things, which makes it possible to understand the market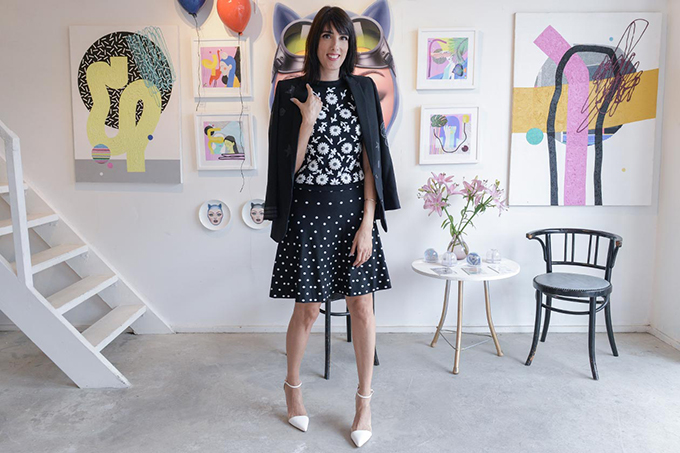 limor's look – suit: PERSONAL COLLECTION / heels: vivienne westwood for melissa / ring: dior – AVAILABLE AT enigma
my look – jacket: zadig & voltaire / top: ella luna – paris / SKIRT: castro / sunglasses & jewelry: dior – AVAILABLE AT enigma / heels: zara
PHOTOGRAPHED BY: NIMROD KAPELUTO / HAIR & MAKEUP: LISHE