THE KEY FASHION TRENDS TO KNOW ABOUT FOR Autumn – Winter 2018/19
Welcome back to reality!
The holiday season is over, you've stopped posting photos from dreamy vacations (thank god!) and as for me – the opulent family dinner season has come to an end.
I don't know what it's like for you, but with every year that goes by – our holiday
dinners seem to become more of a feast that's gone out of control. If that's not enough, during the days I had a break from all the holiday fuss, I found myself attending culinary events and Friday night dinners at friends' houses where – how can I phrase this elegantly – common sense was left outside of the kitchen as well.
By the way, please note that a fast, effective and proven method for losing all of those extra pounds you've accumulated over the holidays is wearing a coat. Works every time ;-)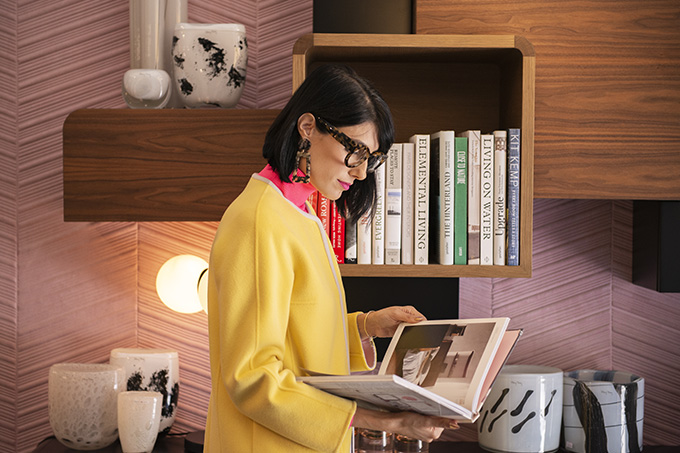 Speaking of coats, I've prepared a list of hot fashion trends you might want to try this winter, mapping out the various items that are currently available at stores and suggesting combinations you could easily wear to work – in hope that you actually remember how to get to the office, that is.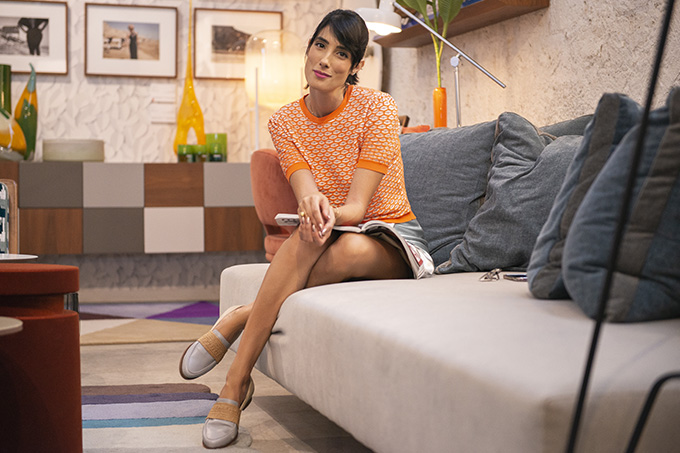 Neon Sparks
Let's begin with an exciting trend that has got me extra hyped these days – the return of neon and other iridescent colors, which normally don't characterize winter fashion.
Pioneering fashion houses on this front were Prada and Louis Vuitton, who launched an exceptionally iridescent collection for Fall 2018\19, sending me off to wander – for many hours – through shopping malls and markets (in different cities!), in attempt to locate wonderfully blinding garments.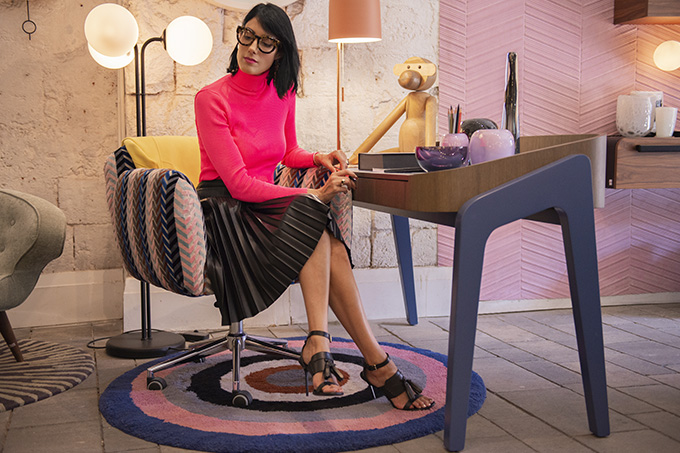 There's no need to panic, the use of neon colors isn't necessarily considered "a fashion statement" nor is it reserved for fashionistas only. It's important to remember that incorporating colorful items – like shoes or handbags – with a conservative outfit will create a fashionable, classic yet current look.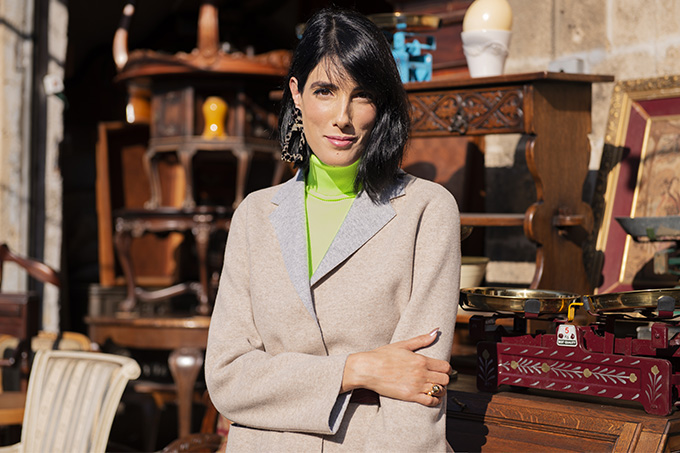 Those who are brave enough to go for bright colored clothing items can combine them with neutral colors or hide them under knitwear and jackets. The touch of bright color will create a balanced, interesting look that will surely make you stand out.
… Worst case scenario, you can always use the clothes you bought for a night-time run, as part of your post holiday diet.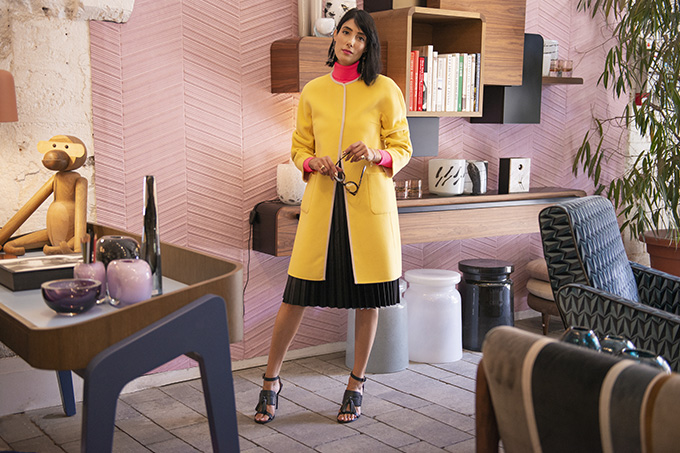 Leather weather
Or as I like to call it – "let there be leather!"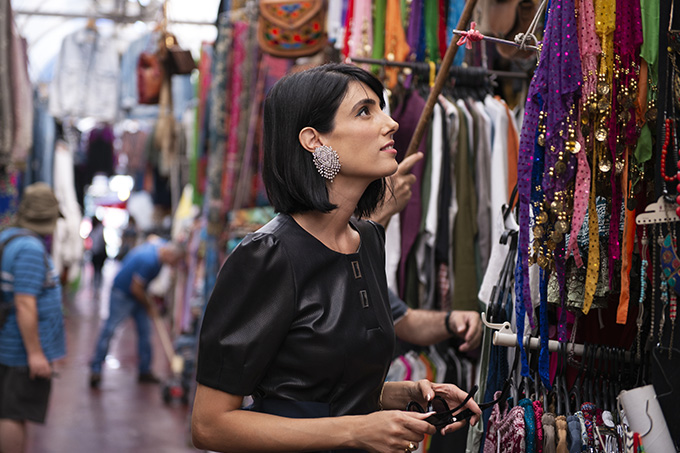 This year, it seems that the most dominant material to be viewed on the catwalk was leather.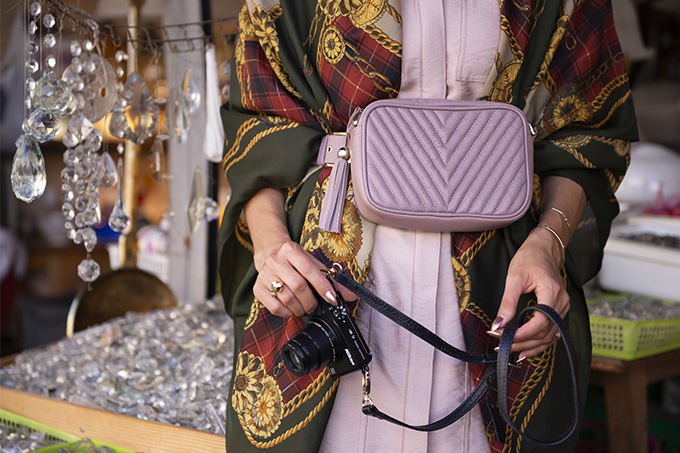 Givenchy, Hermes, Miu Miu, Saint Laurent and other fashion houses displayed jackets, skirts and leather pants in various shades and silhouettes, while leather dresses were given a special spotlight.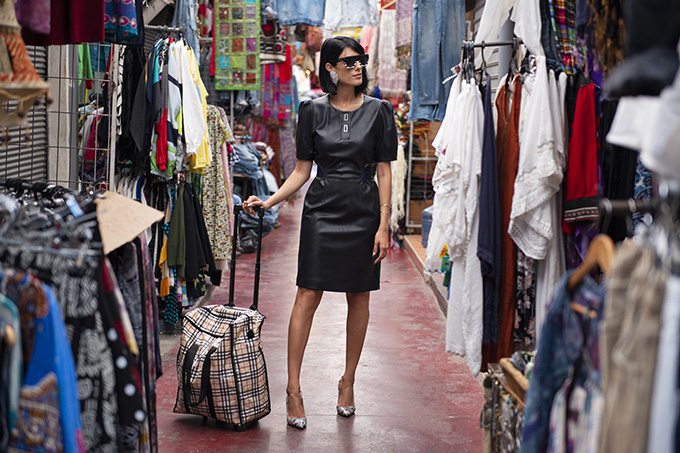 The use of leather is a controversial subject in the fashion world. That being said, today, advanced technologies enable the manufacturing of leather-like materials, that appear and function just as natural leather does. So whether you're a moral fashion lover or you're not ready to invest in expensive leather products, you can easily adopt this winter trend using high quality substitutes.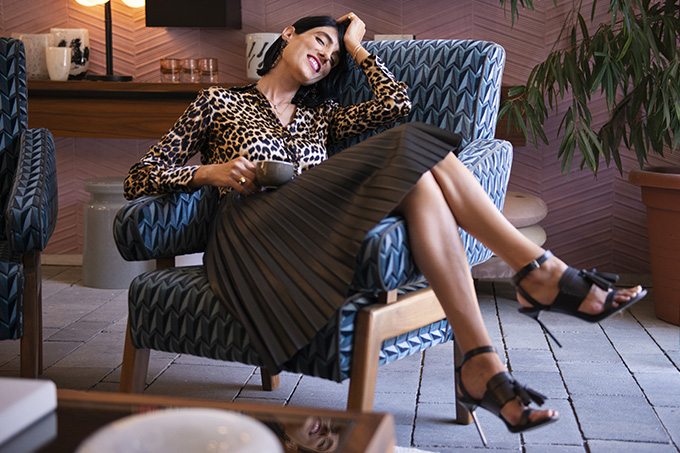 Animal Print
Seeing as we're already discussing animals, I'm pretty sure you couldn't miss the safari that seems to have appeared in stores. I've already written about the leopard print trend in the past, and it seems that these stripes have never stopped trending – the shirt I chose to photograph has been residing in my closet for over ten years (!)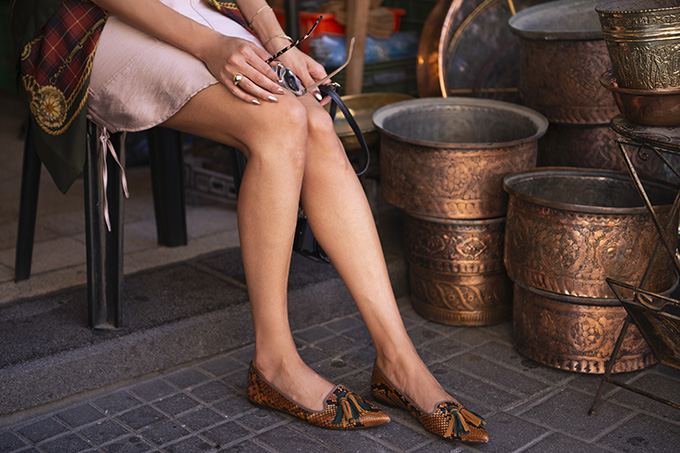 Autumn-Winter 2018\19 offers another innovation – snake is the new black! Python, crocodile, tiger and zebra prints were showcased on runways of fashion houses such as Victoria Beckham, Calvin Klein, Balenciaga and Tom Ford, so it seems that its time to leave all prejudice behind and join the urban jungle.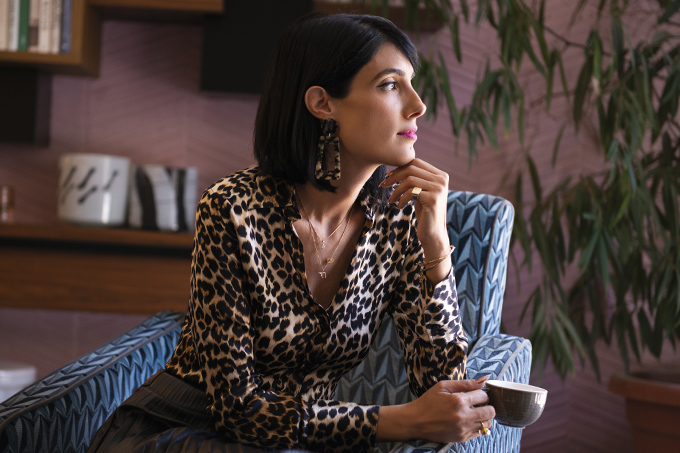 A little tip – it's wise to keep a balanced combination of garments. As you must know, in this matter it's "the more – the scarier!" rather than "the more – the merrier" ;-)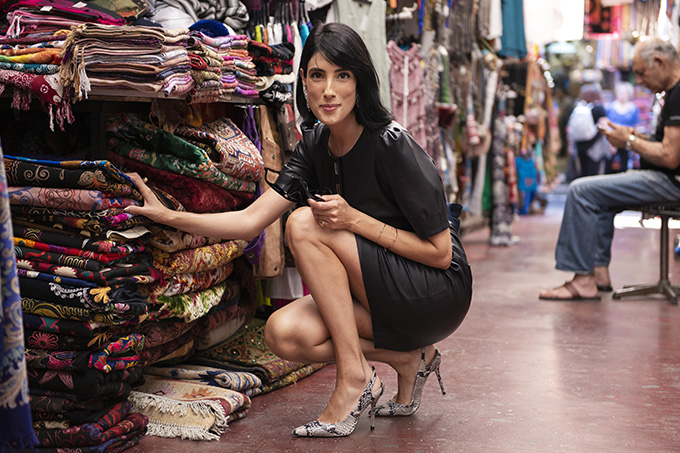 Scarf Out
The "scarfed" trend has been accompanying us for quite a few months now, while in AW2018\19 scarf prints receive a special spotlight – showcasing them as more than just a nice addition to upgrade a look. Scarves have been seen decorating blouses, dresses and suits in collections presented by fashion houses such as Gucci, Oscar de la Renta, Tory Burch, JW Anderson and others.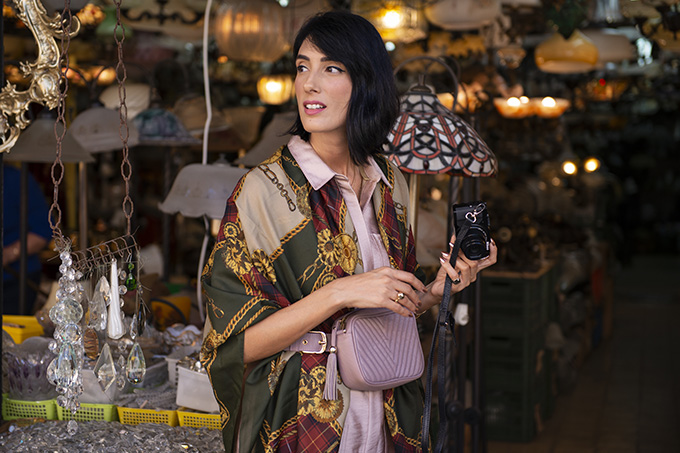 These are iconic retro style prints, resembling treasures you might find stored in your mother's/grandmother's closet or in second hand shops, like this gorgeous scarf I found at Anicha Vintage boutique, located in Haifa.
It's time to admit that markets and second hand shops are my preferred destinations when shopping for unique accessories and garments, because as you can witness, fashion trends tend to return for a visit, and in a world of mass production there is – in my eyes – great importance to personal style and prominence.
Silver bullet
I admit that the metallic trend took me by surprise as well, but I probably should have predicted that in perfect timing with the 50 year celebration of the first manned moon landing, the "Space age" look would become relevant again.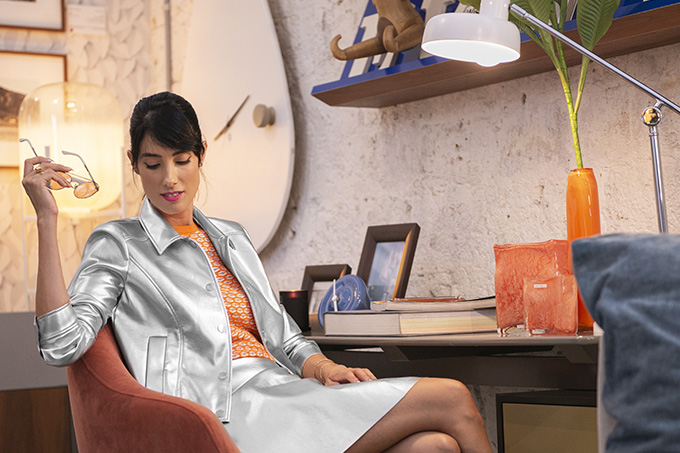 Silver colored suits were shown on the runways of fashion houses such as Balmain, Giorgio Armani and Dior. On Alberta Ferretti, Givenchy and Off White's runways, models wore dresses in an ultra modern silver look.
So I guess it was only a matter of time until I found myself humming "Ground control to Major Tom" while wearing a space suit ;-)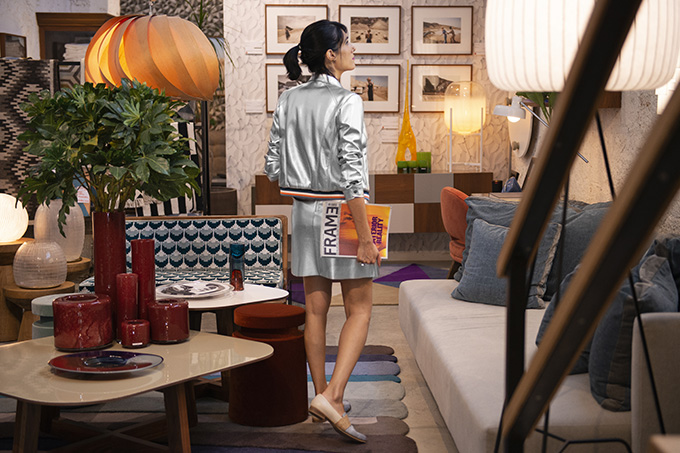 By the way, those of you who find the futuristic look too bold, could settle with a  sequined silver skirt, jacket or shiny boots that will upgrade any look.
So until I have a good reason to start wearing coats and turtle necks, please excuse me while I return to the A/C at the office and imagine it's raining outside.
Have a wonderful day!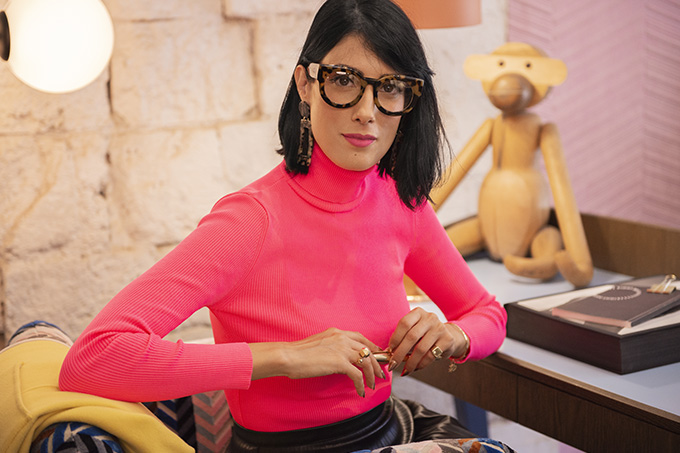 my outfits:
STUDIO VENDOME (TLV FASHION MALL) – max mara weekend coats & belt \ IBLUES Bordeaux trousers \ emme marella black skirt \ boss black dress, silver suit & orange knitwear
shuviluna – Pink Leather Mathilda Mini Crossbody/Belt Bag
pretty ballerinas EARTH SNAKE LOAFERS
daniella lehavi light blue LOAFERS
Anicha second hand – scarf
burberry – black sandals
zara – neon TURTLENECK SWEATERs, leopard shirt & silver earrings
massimo dutti – SNAKE heels
stradivarius – leopard earrings & glasses
Sunglasses:  brown miu miu – luxottica / black & white – carolina lemke
Scotch & Soda – SHORT SLEEVE SAFARI DRESS
PHOTOGRAPHED BY: NIMROD KAPELUTO / HAIR & MAKEUP: LISHE
BEAUTIFUL LOCATION BY: ELEMENTO DESIGN HOUSE